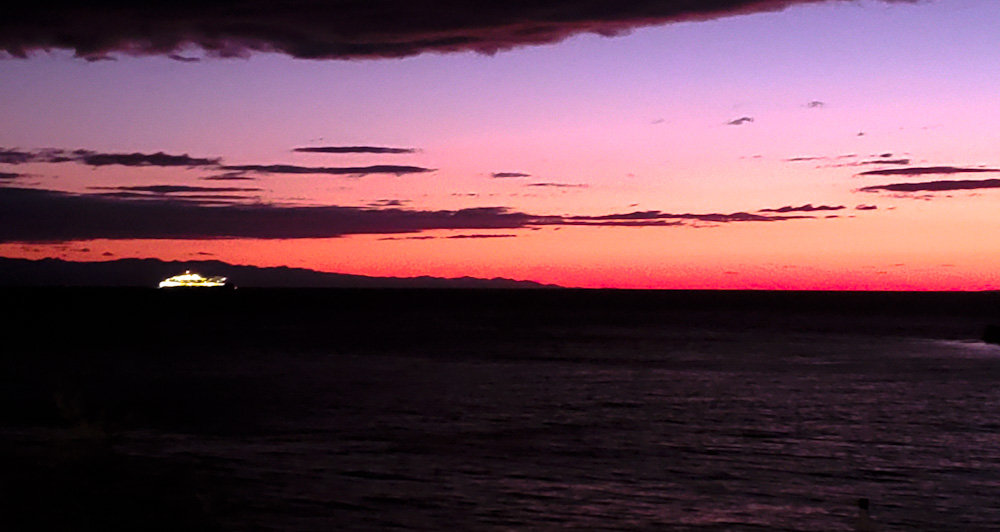 Photo and Commentary ©2019 by Maylan Schurch
Sabbath, October 12, 2019
The scene you see above was taken with my smartphone camera (and no tripod), and the image doesn't do justice to what I saw. It was the last Saturday night in September, and our church was on its annual retreat at the Walla Walla University Marine Station retreat center next to Rosario Beach just a few miles from Anacortes, Washington.
I'd just left the main lodge, and was walking to Shelley's and my cabin to fetch something, when a brilliant object to my left caught my eye. An immense ferry, ablaze with light from stem to stern, was moving slowly across the water a couple of miles from where I stood, heading northward.
For a few seconds I tried to imagine what it was like being on that ferry at that moment. I'm sure some of the people were at the boat's rails, gazing at the sunset. Others were sitting in the passenger areas chatting with each other, or playing cards, or eating, or studying their smartphones or laptops.
No one, I'm pretty sure, was obsessing about whether or not they would reach their destination correctly and securely. Instead, they'd placed their faith in the experienced captain, knowing that he or she would guide that vessel safely to the dock.
Many decades ago someone wrote a song in Spanish, "Mas alla del sol," which has been translated into English and probably many other languages. It calls us to courage, and faith in our Captain, as we move toward a darkening future.
Though I claim no riches
On my earthly journey
Over there in glory
I've a mansion fair
While on earth an outcast
By the world rejected
Yet my Lord and Master
Saves me from despair
Far beyond the sun
Far beyond the sun
Up there is my home, my home,
Blessed home, far beyond the sun
Far beyond the sun
Far beyond the sun
Up there is my home, my home,
Blessed home, far beyond the sun