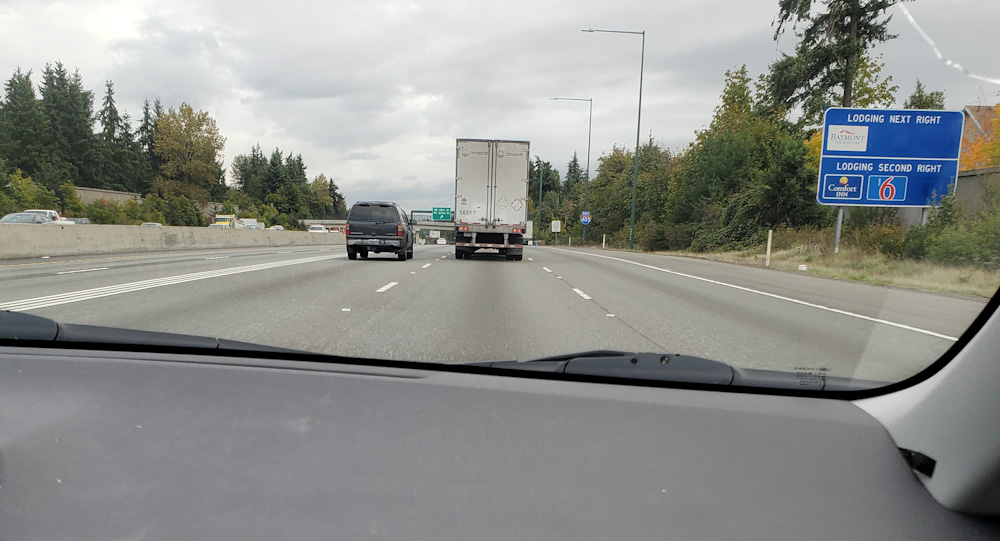 Photo and Commentary ©2019 by Shelley Schurch
Sunday, October 6, 2019
We were driving north 405 to prayer meeting when I saw it, the surprising message on the back of the truck ahead of us and one lane over. Not the truck you see in this photo, because I didn't have my camera at the ready then.
The message, in large letters, read:
     We Worship
          Anything
          Anytime
          Anywhere
What??? And then, as we overtook the truck, I read instead:
     We Ship
          Anything
          Anytime
          Anywhere
Oh. Better. Much better.
My first glance misreading was probably due to the fact that it was dusk, and that a new prescription for my glasses may be in my near future, and that I was anticipating prayer meeting so my mind was prepared for worshipping, not shipping. That all seems like a tidy explanation.
But I'm glad that I read what wasn't there, because it reminded me that we can worship anytime and anywhere, but that we are not invited to worship anything. We do not choose from a large buffet of possibilities; we worship the one and only God – Father, Son, and Holy Spirit.
I suppose it is true that we can worship anything, and often do. Maybe a quick check of where I choose to invest my time and talent and treasure reveals what or Who I worship.
In Exodus 20 God first declares who He is by describing what He has done, and then calls us to worship:
"I am the LORD your God, who brought you out of the land of Egypt, out of the house of bondage. You shall have no other gods before Me."
He has rescued us and redeemed us. As the gospel song says, "All our love is due him," echoing 1 John 4:19, "We love because He first loved us."
We bow the knee, Lord. You, and You alone, are worthy of our praise. Anytime, anywhere.