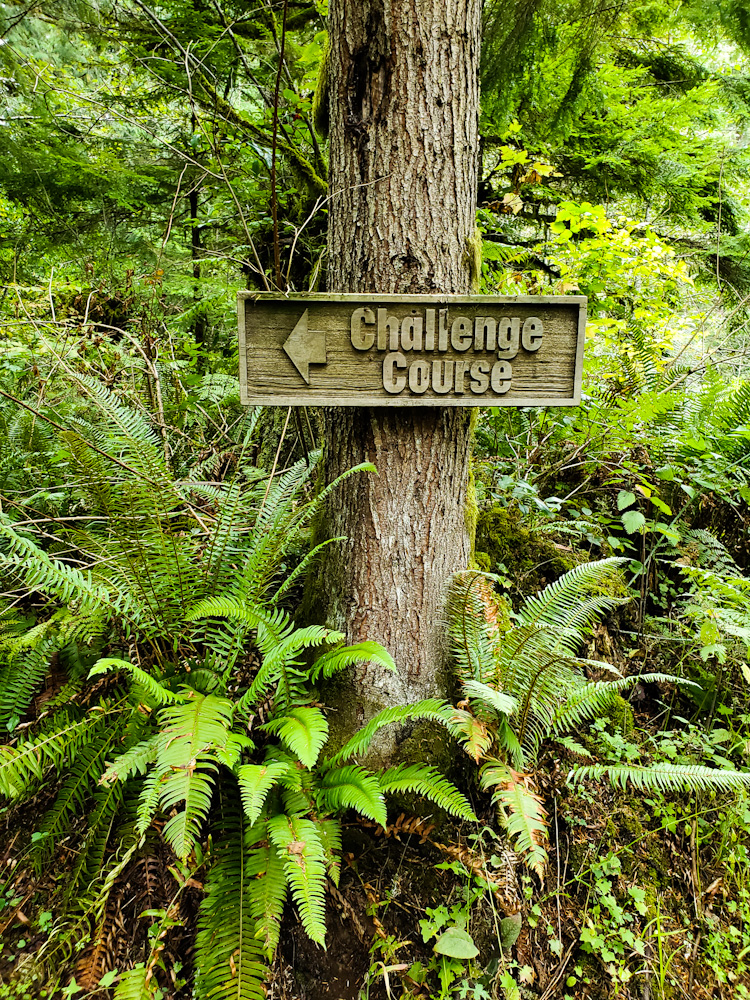 Photo and Commentary ©2019 by Shelley Schurch
Sunday, September 22, 2019
This past week, early on, had its challenges (but what week doesn't?), so when I came upon this sign Tuesday afternoon I had to grin. "Challenge Course" – seems like a succinct definition of life on this planet.
I noticed that this sign, with its arrow pointing to the left, gave me the option of turning that direction and taking on the challenges it promised, but life doesn't always present us with that choice. Sometimes we are blindsided by challenging circumstances and scramble to find our footing on what has become unstable ground. Have you ever muttered to yourself, "It's not supposed to be this way!" when confronted by unwanted, unwarranted events?
But this is looking at the negative. There are welcome challenges that perk us up, put a gleam in our eyes and renewed energy in our souls. We rub our hands, lick our lips, and perform other clichés as we look forward to taking on a challenge.
The day after I came upon this sign I was talking to a friend about her love for languages, and how many she had tackled thus far in her young years. When I confessed that I'd had difficulty learning German, especially the grammar, she said she knew what I meant, but that she had enjoyed the challenge. In fact, what she loved about learning any language, she said, was the challenge of it.
Last Tuesday as the work retreat that brought me to Sunset Lake Youth Camp (and this sign) concluded, I lingered a bit, savoring the peace and beauty of forest and lake. I suddenly remembered one of my favorite phone apps and pulled it up to measure the quiet I was enjoying. I was not surprised to see the needle of my decibel meter register almost as low as it could go, labeling the sound the equivalent of "rustling leaves."
Psalm 46:10 whispered to me then: "Be still, and know that I am God." I realized once more that it is God, and God alone, who equips me for any challenge I might face, and that getting to know Him, the truth about what He's really like, is the greatest adventure of all on this Challenge Course of life.
He is with you, and for you – be encouraged this week!