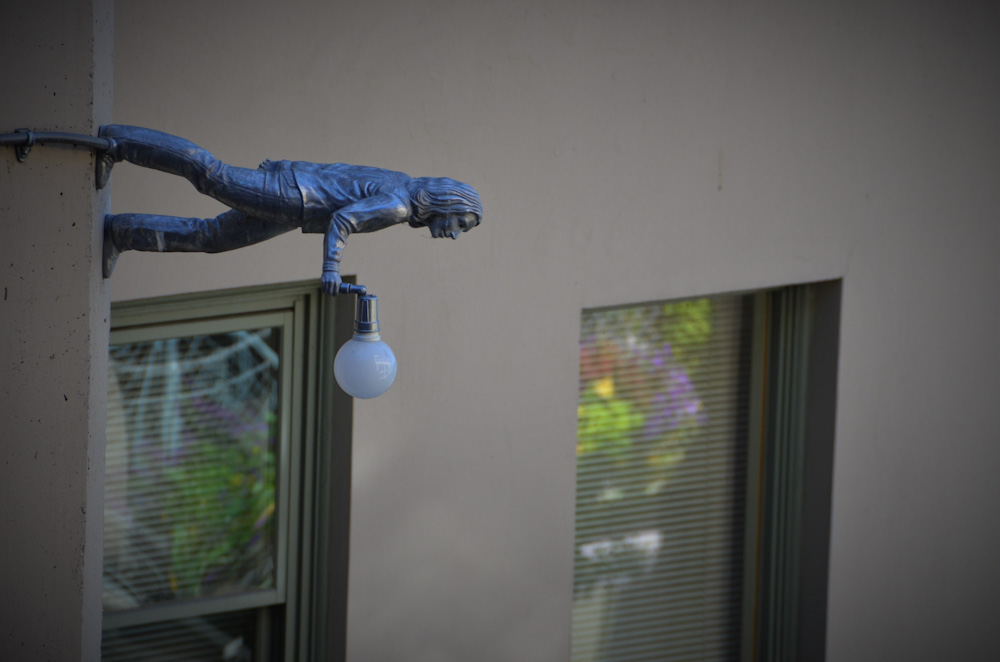 Photo and Commentary ©2019 by Darren Milam
Wednesday, September 4, 2019
You don't need to turn your device. The image is exactly the way you should be seeing it. If you have ever been to downtown Seattle, near Pike Place Market, there is a specific set of stairs aptly named "Pike Place Hillclimb." There are 163 steps that rise 100 feet in elevation, over a distance of 375 feet. It's a fun climb, not too strenuous. Also, as you are climbing these stairs, you can view lots of interesting things, including what I've captured in this image – a very unique light fixture. This statue, as you can see, is defying gravity. He is affixed to the wall, standing parallel to the ground below, while holding the light bulb at its "normal" angle.
There are times I feel like this little guy on the side of the wall – maybe not the defying-gravity part, but more of the which direction am I headed? In those moments, I pause and do a quick check, pray, and listen. God is our guide. He knows exactly where we should be headed and He also knows what can detour us. A tiny pause to check in with our Creator/co-pilot can get us back on course.
As it tells us in Psalms 119:105-109:
Your word is a lamp to guide my feet
and a light for my path.
I've promised it once, and I'll promise it again:
I will obey your righteous regulations.
I have suffered much, O LORD;
restore my life again as you promised.
LORD, accept my offering of praise,
and teach me your regulations.
My life constantly hangs in the balance,
but I will not stop obeying your instructions.
Next time you aren't exactly sure if you are on the right path, pause, ask and listen. You'll be headed in the right direction in no time.