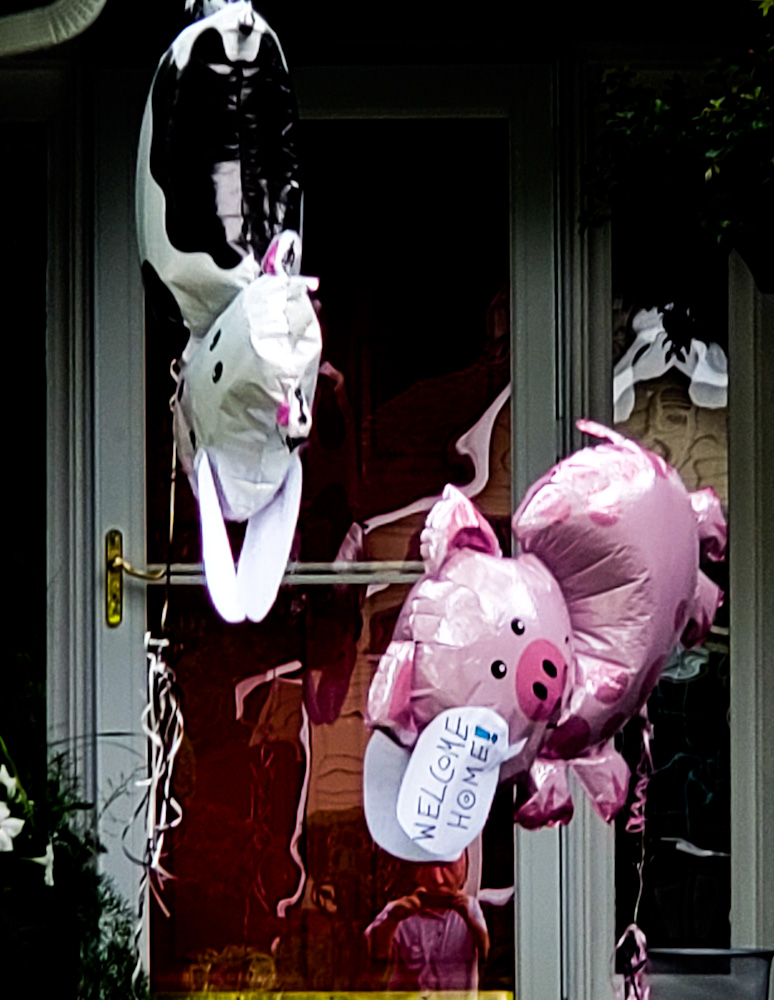 Photo and Commentary ©2019 by Maylan Schurch
Sabbath, August 31, 2019
Earlier this week, on a morning walk, Shelley and I passed the above home, and noticed a couple of helium balloons—one a pink pig and one which seems to be a fish—hovering in front of the entrance. Attached to the pig's head is a speech balloon which says "Welcome Home!" Both balloons were swiveling in a slight breeze, and even though the photo doesn't show it, I remember that both had this same message. So those two things hanging from either side of the fish are probably speech balloons too. There's no clue as to who is being welcomed.
One of my favorite Bible passages is the first part of Revelation 21, where God is welcoming His rescued children into His presence. Here's that passage (John is speaking):
Now I saw a new heaven and a new earth, for the first heaven and the first earth had passed away. Also there was no more sea. Then I, John, saw the holy city, New Jerusalem, coming down out of heaven from God, prepared as a bride adorned for her husband. And I heard a loud voice from heaven saying, "Behold, the tabernacle of God is with men, and He will dwell with them, and they shall be His people. God Himself will be with them and be their God. And God will wipe away every tear from their eyes; there shall be no more death, nor sorrow, nor crying. There shall be no more pain, for the former things have passed away." Then He who sat on the throne said, "Behold, I make all things new." And He said to me, "Write, for these words are true and faithful." (Revelation 21:1 – 5 NKJV)
In other words, "Welcome home, children!"
Want to refresh your heart with Bible news about God's heavenly home, which He is making ours as well? Click the link just below: