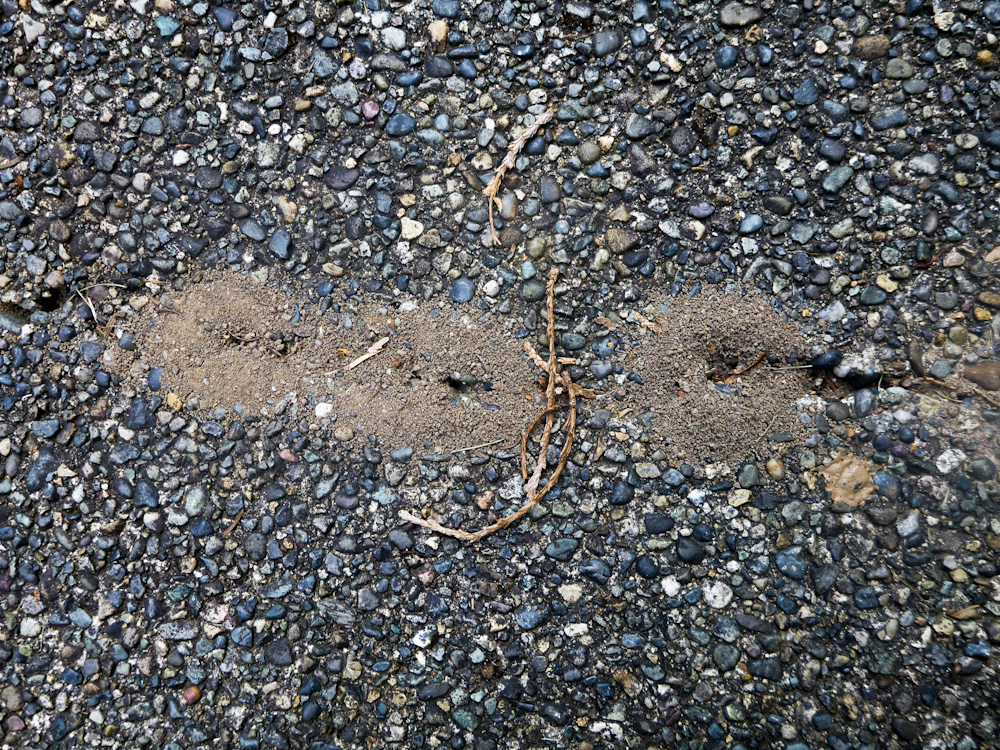 Photo and Commentary ©2019 by Maylan Schurch
Sunday, April 28, 2019
Friday morning I felt a pang of nostalgia as I glanced down at our driveway. Growing up on the prairies of South Dakota, I was always intrigued to see the sand-mounds erected by little teams of ants who were hoping to protect their subterranean tunnels from rainstorms. And here, decades later, new generations of ants are still dragging grains of sand into the same little piles following those same construction blueprints.
Somebody please tell me who it was who imprinted the first generation of ants with this knowledge—not only how but when to build these circular dikes. Tell me how this memory gets passed down from year to year.
The Bible book of Proverbs urges us to study the way of the ant—especially if we're a bit prone to laziness. Because sure enough, despite what to the ants must seem cavernous driveway cracks, each of these three sand-rings is complete. None is half-done.
But we can take another lesson from these insects–they're preparing for crisis. None of them probably knows when it's going to rain, but they've sandbagged their home just in case.
In 1886, hymnwriter Frank E. Belden put this preparation-instinct in human terms:
We know not the hour of the Master's appearing,
Yet signs all foretell that the moment is nearing
When He shall return—'tis a promise most cheering—
But we know not the hour.
He will come, let us watch and be ready;
He will come, hallelujah! hallelujah!
He will come in the clouds of His Father's bright glory—
But we know not the hour.
There's light for the wise who are seeking salvation,
There's truth in the Book of divine revelation—
Each prophecy points to the great consummation—
But we know not the hour.
We'll watch and we'll pray, with our lamps trimmed and burning,
We'll work and we'll wait till the Master's returning,
We'll sing and rejoice, every omen discerning—
But we know not the hour.