Each day, a number of our church members who are also photographers post photos and spiritual commentary, following this schedule: NOTE: To see previous blog entries, access blog archives on the right sidebar.
Sunday (Shelley Schurch)
Monday (Cheryl Boardman)
Tuesday (Robert Howson)
Wednesday (Darren Milam)
Thursday (Russell Jurgensen & family)
Friday and Sabbath (Pastor Maylan Schurch)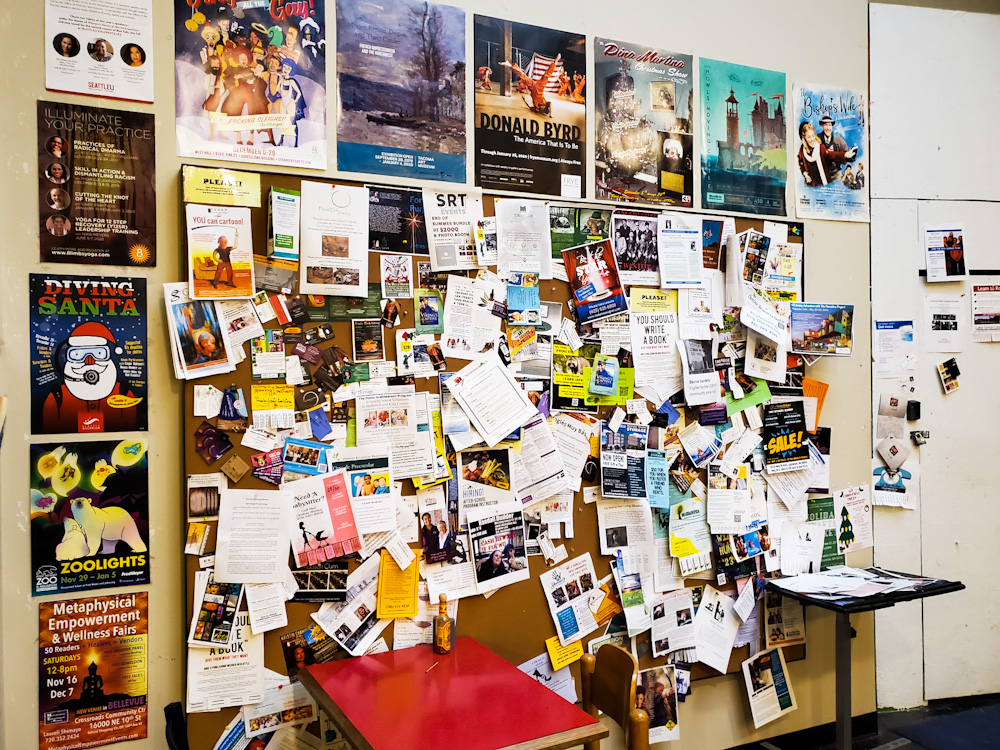 Photo and Commentary ©2020 by Maylan Schurch
Sabbath, January 18, 2020
A week ago on this page I posted a Daily Photo Parable about a poster I saw on a community bulletin board offering help with writing a book. Well, above you can see the entire bulletin board—the "You Should Write a Book" invitation is a bit up and to the right of the center.
Have you ever thought about the idea that a community bulletin board like this might be one of the supreme proofs of the Creator's existence? It's really a "wall of aspiration." Many of this board's posters challenge you to improve yourself, take a dare, be more creative. A bit to the lower left of the book-writing poster is one that advertises "Inglés muy basico," evidently a class in basic English for speakers of Spanish. Directly above this announcement is one which urges the viewer to learn Japanese. At the board's upper left corner is a "You can cartoon" ad. And above the board and down the left side are invitations to various concerts and other programs which sprung from the creativity of others.
Why this incessant desire to entertain and be entertained? Why this urge to teach and to learn? Survival of the fittest alone can't account for this. There's a creative desire within us—and most joyfully present in children—to imagine and aspire to something that hasn't happened yet.
We have a Creator. Case closed? It is for me.
To reflect on the handiwork of the Master Envisioner, Aspirer, and Craftsman, click the link just below.