Each day, a number of our church members, who are also photographers, post photos and spiritual commentary, following this schedule: NOTE: To see previous blog entries, access blog archives on the right sidebar.
Sunday (Shelley Schurch)
Monday (Cheryl Boardman)
Tuesday (Robert Howson)
Wednesday (Darren Milam)
Thursday (Russell Jurgensen & family)
Friday and Sabbath (Pastor Maylan Schurch)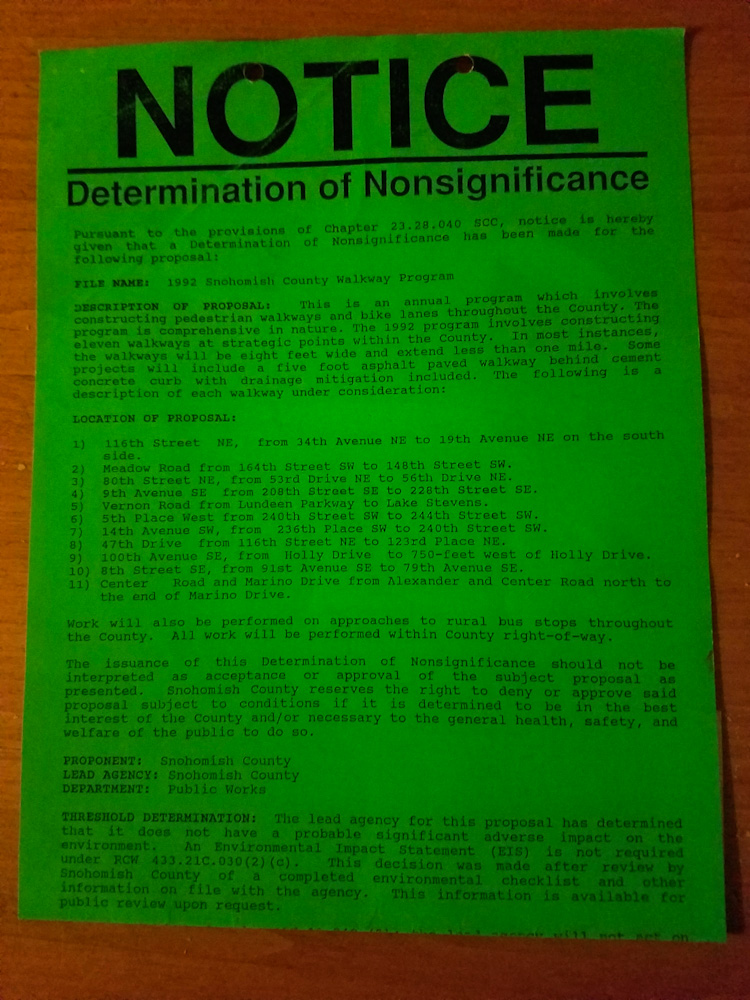 Photo and Commentary ©2019 by Shelley Schurch
Sunday, May 19, 2019
I've kept this bright green notice in a binder for 27 years, along with other keepers, revisiting it from time to time. When it first caught my eye, it made me laugh, and then lean forward to read the fine print. What was so nonsignificant that it required such a lengthy notice to tell me so?
Near the bottom of the page I discovered what seemed to be the crux of the matter: "The lead agency for this proposal has determined that it does not have a probable significant adverse impact on the environment." In other words, no worries. This is a notice of reassurance.
And yet my eye and my mind wander back up to the bold heading, and I think how many times I have struggled with "determination of nonsignificance." When I was young, schooling almost behind me and the rest of my life ahead of me, I was trying to figure out how to shape that life in a meaningful way.
Now that I have travelled many miles and many years of that life, I'm looking back, wondering if I've travelled well, if I've done anything that has lasting significance.
I think the devil would like to stamp "nonsignificant" on each of us and our doings, and have us believe this lie. Remembering that "crux" comes from the Latin and literally means "cross," we realize that the crux of the matter is that Jesus died on the cross because He declares us His beloved children, well worthy of His sacrifice.
I John 3:16 joins the much better-known John 3:16 in emphasizing how significant God has determined us to be: "By this we know love, because He laid down His life for us."
With so much noise and news swirling around us to distract us from discerning God's ways and will for our lives, I heard again this week the invitation of Psalm 46:10: "Be still, and know that I am God." And that reminded me of a sentence from the wonderful book, The Desire of Ages by Ellen White: "When every other voice is hushed, and in quietness we wait before Him, the silence of the soul makes more distinct the voice of God."
Listen for His voice, and be encouraged this week!