Each day, a number of our church members, who are also photographers, post photos and spiritual commentary, following this schedule: NOTE: To see previous blog entries, access blog archives on the right sidebar.
Sunday (Bev Riter)
Monday (Cheryl Boardman)
Tuesday (Robert Howson)
Wednesday (Darren Milam)
Thursday (Russell Jurgensen & family)
Friday and Sabbath (Pastor Maylan Schurch)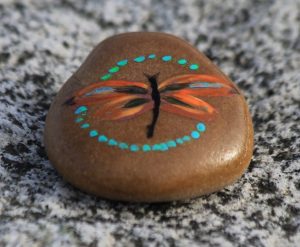 Photo and Commentary ©2018 by Cheryl Boardman
Monday, December 10, 2018
This photo is of a painted rock I saw that was on top of a boulder near a beach on Whidbey Island. I didn't take the rock but from reading on line, there are a group of people called the Whidbey Island Rockers who connect via Facebook. They post pictures of rocks they've found or hidden and you can apparently keep the rocks when you find them or hide them again but they ask that you post a picture on Facebook. (I'm not on Facebook.)
After scrolling through pictures on their Facebook page of some of the rocks that have been hidden and found, some of these are true works of art and some are more whimsical.
I think it's really nice to find something surprising that can brighten up your day. Sometimes we find things quite by accident but sometimes we find things when we are deliberately looking for them.
Jesus said:
And so I tell you, keep on asking, and you will receive what you ask for. Keep on seeking, and you will find. Keep on knocking, and the door will be opened to you.For everyone who asks, receives. Everyone who seeks, finds. And to everyone who knocks, the door will be opened.
Luke 11:9-10- (NLT)