Each day, a number of our church members, who are also photographers, post photos and spiritual commentary, following this schedule: NOTE: To see previous blog entries, access blog archives on the right sidebar.
Sunday (Various)
Monday (Cheryl Boardman)
Tuesday (Robert Howson)
Wednesday (Darren Milam)
Thursday (Russell Jurgensen & family)
Friday and Sabbath (Pastor Maylan Schurch)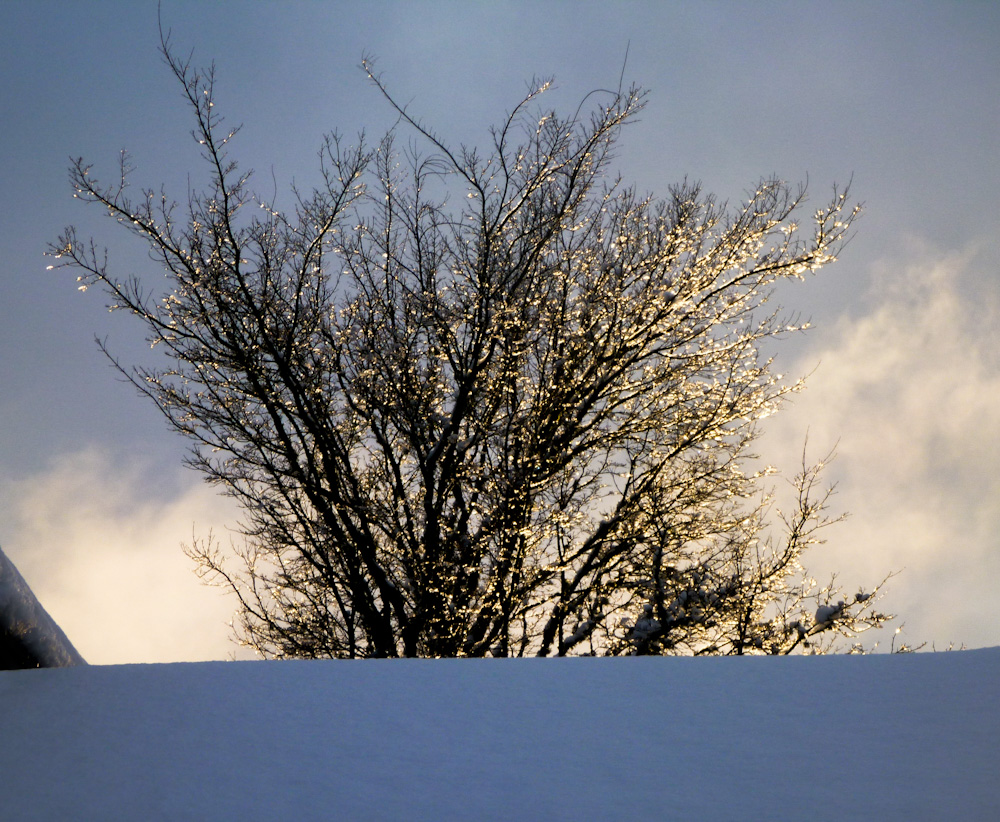 Photo and Commentary ©2019 by Maylan Schurch
Sabbath, February 23, 2019
A little over a week ago our neighborhood was still blanketed by at least nine inches of snow. But after the flurries had stopped, the bright sunshine appeared. Sure, it was low in the sky and didn't have the same power as it would have had if it were higher, but it cheered people up.
One day Shelley drew my attention to an absolutely gorgeous sight we could see from our backyard-facing windows. I grabbed my camera and stood on our deck. The photo doesn't do it justice, but I'll see if I can describe it.
That level white substance across bottom is snow on our neighbors' garage roof. Behind it towers a tree, and what caught Shelley's attention was the sun illuminating the little tufts of snow on the branches. In this photo those little tufts appear simply white, but to the real human eye they were blazing sparks of ice through which the sun was shining.
And gazing at them, I felt hope—hope that the snow would eventually melt, and spring would eventually come.
Need a bit of hope right now? Click the following link for several encouraging Bible verses about this topic.