Each day, a number of our church members, who are also photographers, post photos and spiritual commentary, following this schedule: NOTE: To see previous blog entries, access blog archives on the right sidebar.
Sunday (Bev Riter)
Monday (Cheryl Boardman)
Tuesday (Robert Howson)
Wednesday (Darren Milam)
Thursday (Russell Jurgensen & family)
Friday and Sabbath (Pastor Maylan Schurch)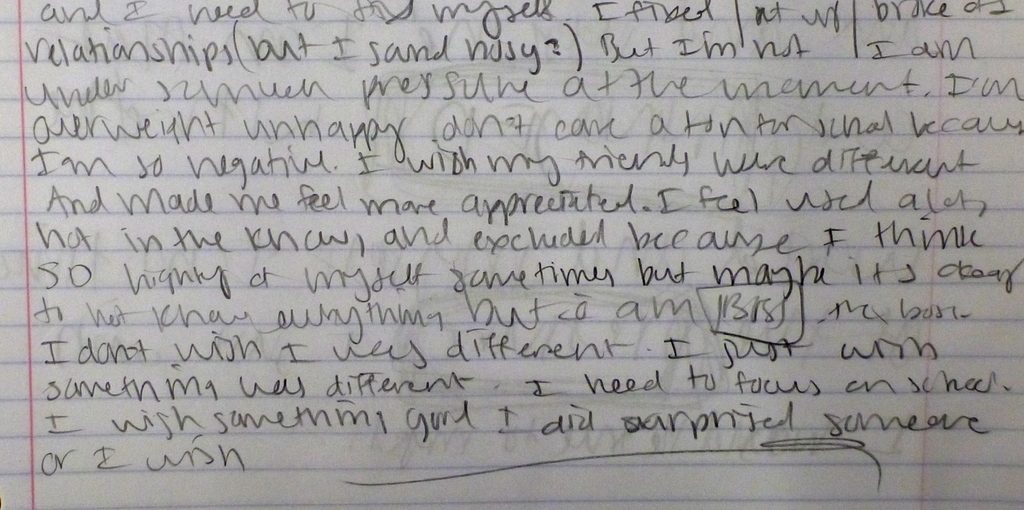 Photo and Commentary ©2018 by Maylan Schurch
Friday, September 21, 2018
As I paw through the notebooks and journals donated to thrift stores, I notice that most of them are blank, and often it's clear that the first three or four pages were written on and then torn out.
I am shamelessly nosy when I discover that someone has neglected to remove his or her introspections. Since the above specimen (which I found earlier this week) contains nothing that could identify the writer, I offer a few lines for your inspection. Though I'm not totally sure, it seems to me that this is a guy's handwriting rather than a girl's, because the latter gender seem to take better care with their penmanship.
As I remember, this was the last entry in the notebook (I didn't buy it but left it there), so I'm hoping the person cheered up enough to not need to pour out his or her heart.
As I read through it, two words stand out: "I" and "wish." And to me, the most mournful sentence is the last one: "I wish something I did surprised someone."
Several years ago, a friend of mine named Chris Blake wrote a book called Searching for a God to Love. It's a marvelous title and a marvelous book as well. In it the author opened his heart about his own search, and his vast and delighted relief when he found such a God.
One of the books which introduced my friend to a loving God was The Desire of Ages, a life of Christ written by Ellen White. You can read this book online by clicking the link below:
http://www.whiteestate.org/books/da/da.asp