Each day, a number of our church members, who are also photographers, post photos and spiritual commentary, following this schedule: NOTE: To see previous blog entries, access blog archives on the right sidebar.
Sunday (Bev Riter)
Monday (Cheryl Boardman)
Tuesday (Robert Howson)
Wednesday (Darren Milam)
Thursday (Russell Jurgensen & family)
Friday and Sabbath (Pastor Maylan Schurch)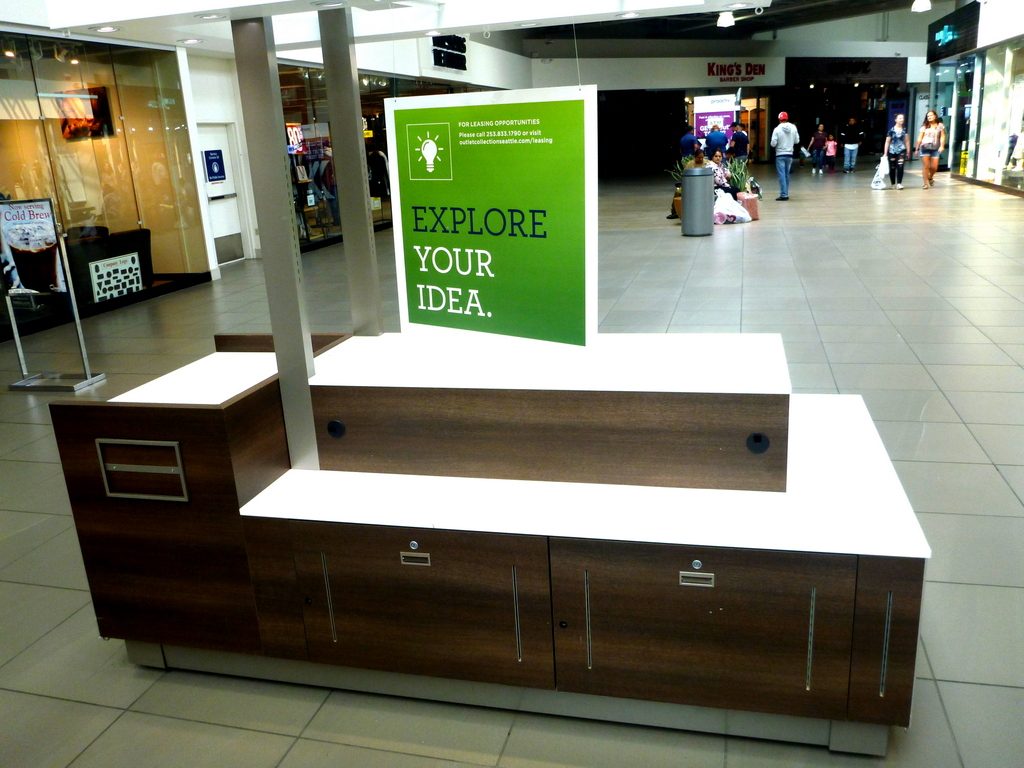 Photo and Commentary ©2018 by Maylan Schurch
Sabbath, August 18, 2018
Last Sunday Shelley and I made a quick stop at the Outlet Collection near Auburn. As with most malls, there are regular stores, and there are kiosks like the one above in the walkways. This one, however, isn't currently selling anything.
Or maybe it is. Maybe it's selling Opportunity. An entrepreneur might spot this booth, carefully take notes on the contact info listed beside the sign's lightbulb, and eventually haul in product and hope for the best.
And the entrepreneur knows very well that the title on the sign only tells part of the story. You can "explore an idea" in the privacy of your own home if you wish. The purpose of the kiosk above is to arouse interest in the passing customer and to cause that customer to relieve you of some of your inventory. The salesman will therefore use demos and whatever else necessary to catch and hold the customer's attention.
As you probably know, Jesus insists that each of His disciples (and since "disciple" means a learner about Jesus' agenda, that applies to you and me) should go into the business of exploring and sharing the idea of a loving God who allowed His Son to redeem us and wipe away our sins and give us eternal life.
So, what do you have available that you can share with someone else? A personal conversion story? A book or DVD you've found helpful? What if, among the other items in your kiosk, you had a large box labeled "Time to Listen to You"?
And what do you think would happen if, this coming week, at home and at work and anywhere else, you pushed before you an invisible "God is love" kiosk, while wearing an instant smile?
For more information about the "product" Jesus wants you to "sell," click the link just below.
http://www.bibleinfo.com/en/topics/salvation