Each day, a number of our church members, who are also photographers, post photos and spiritual commentary, following this schedule: NOTE: To see previous blog entries, access blog archives on the right sidebar.
Sunday (Bev Riter)
Monday (Cheryl Boardman)
Tuesday (Robert Howson)
Wednesday (Darren Milam)
Thursday (Russell Jurgensen & family)
Friday and Sabbath (Pastor Maylan Schurch)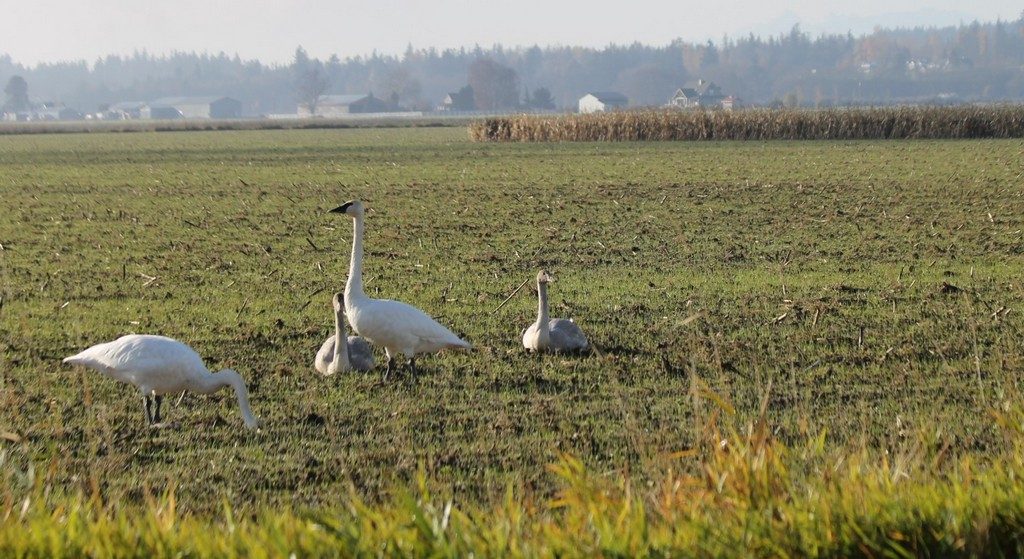 Photo and Commentary ©2018 by Cheryl Boardman
Monday, November 12, 2018
I was out looking for snow geese earlier this month and found this swan family (two adults and two cygnets) that was not too far from the road. The cygnets, or juveniles, don't turn white until after their first fall and winter.
Behind them, you can see some corn stalks. That was a bit unusual because the rest of the field had been plowed. After watching for a while, I realized that the corn stalks were a blind and that was confirmed when I saw a hunter leave that area and head towards his car.
Luckily for these swans, the trumpeter and tundra swans that come through the Skagit Valley are protected. The hunters were actually waiting for snow geese, which are not protected, to settle down within range of their guns.
I did find the snow geese eventually and they were in a huge field that was not adjacent to any decoys or blinds. After years of being shot at, I'm sure they're quite wary of where they settle but safe areas were not too far away from unsafe areas.
The Bible talks about us needing to stay alert:
Keep a cool head. Stay alert. The Devil is poised to pounce, and would like nothing better than to catch you napping. Keep your guard up. You're not the only ones plunged into these hard times. It's the same with Christians all over the world. So keep a firm grip on the faith. The suffering won't last forever. It won't be long before this generous God who has great plans for us in Christ—eternal and glorious plans they are!—will have you put together and on your feet for good. He gets the last word; yes, he does.
1 Peter 5:8-11 (The Message)