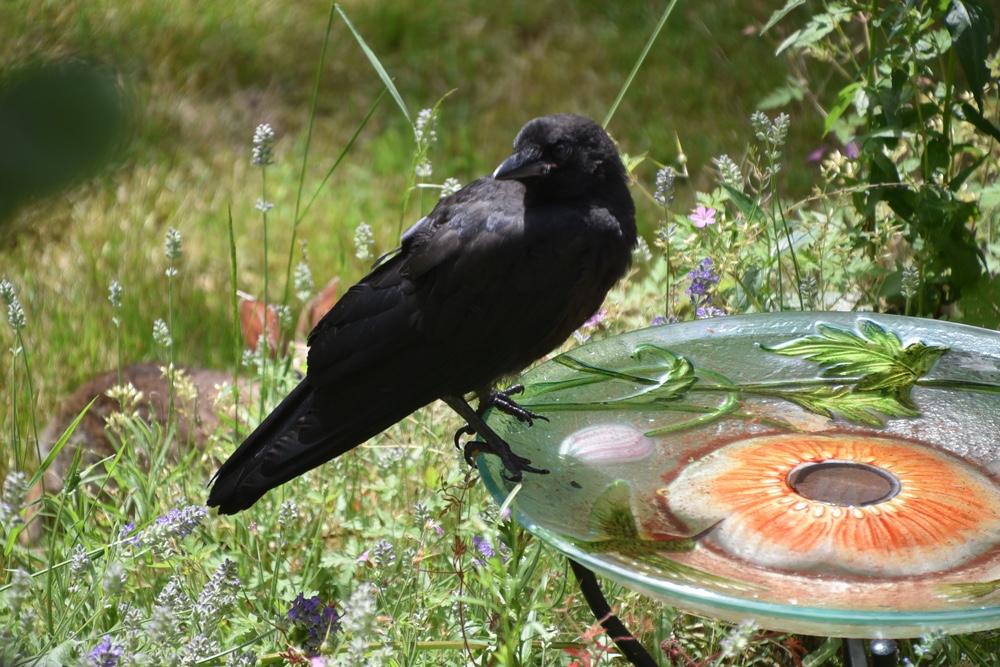 Photo and Commentary ©2019 by Robert Howson
Tuesday, July 16, 2019
When you hear that phrase – "always watching you" – it will either strike a sense of fear or be a comfort. It may make a big difference according to who is saying it, or who is doing the watching, or the purpose of the watching.
In the image above, we see a Northwestern Crow, drinking out of our bird bath. Just behind the crow, you can see the ears of a rabbit, hidden by the flowers and brush. You'll have to take my word for it, but the rabbit was very much watching this crow. The reason I say that, a few seconds after I snapped this shot, the rabbit jumped toward the crow and chased it off. I don't know the beef this rabbit had with the crow, but it was enough for this rabbit to track, stare down and then scare the bird off.
On the flip side of  "always watching you"  we have the feeling of comfort. That's because God is "always watching you," and His purpose is very different than the one I witnessed in the case of the crow and the hare. God isn't watching us to scare us off, chase us, or even point out flaws we have. No, God is watching us because He created us and loves us. He's watching because He wants to be part of our daily lives. He wants to help us, guide us.
Psalm 32:8
I will instruct you and teach you in the way you should go;
I will guide you with My eye.
So, the next time you hear the phrase "always watching you," think of the positive and comforting feeling, when we think of our heavenly Father caring for us as He watches over us.