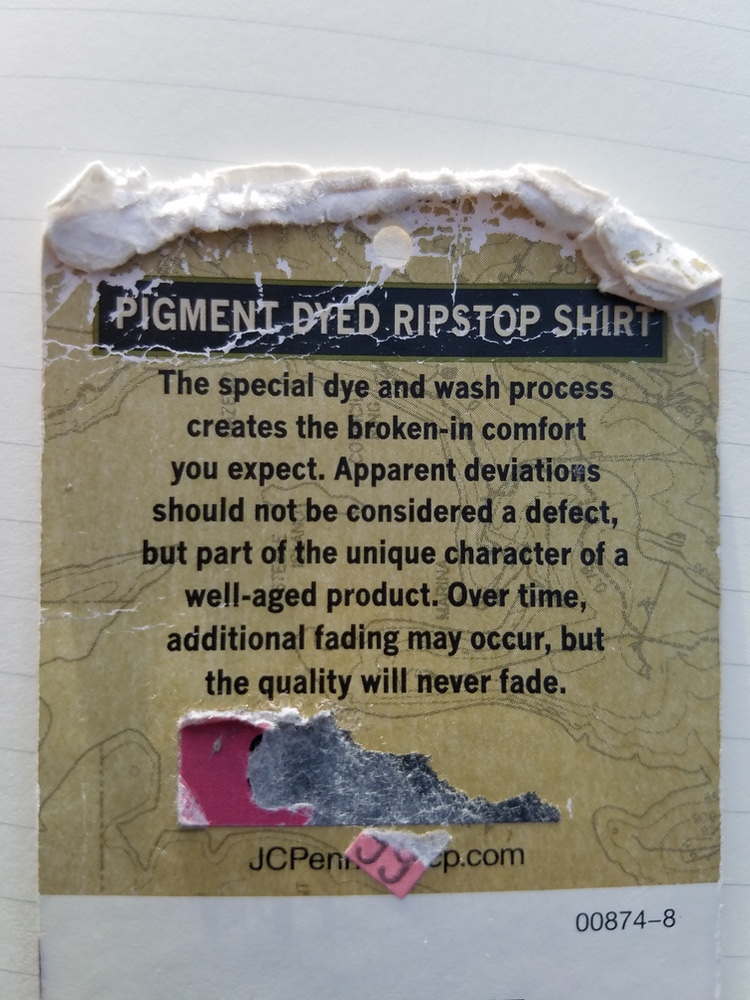 Photo and Commentary ©2019 by Shelley Schurch
Sunday, July 14, 2019
I like w.o.e.  No, not woe!  I like, and search out, w.o.e. – words of encouragement.  I carry them around with me, and post them where I can see them often, so I don't succumb to woe.
I'd like to share with you two batches of w.o.e. which share a theme.  The first batch I fished out of my clutch purse, which is why it looks a little worn at the top (see photo above).  Several years ago I was cutting this tag off a shirt purchased for Maylan when I stopped to read it.  (I'm always pausing to read, partly out of curiosity and partly from the conviction that good things come to people who read fine print.)
When I read this tag to the end I burst out laughing and called for Maylan.  Truth found in surprising places needs to be shared.  We both enjoyed the words, forgetting about the shirt, but hearing instead the description of a long-lived, well-lived life:
"The special dye and wash process creates the broken-in comfort you expect.  Apparent deviations should not be considered a defect, but part of the unique character of a well-aged product.  Over time, additional fading may occur, but the quality will never fade."
My second batch of w.o.e. comes from the Word itself:
"The righteous will flourish like a palm tree,
they will grow like a cedar of Lebanon;
planted in the house of the LORD,
they will flourish in the courts of our God.
They will stir bear fruit in old age,
they will stay fresh and green,
proclaiming, 'The LORD is upright;
he is my Rock, and there is no wickedness in him.' "
(Psalm 92:12-15, NIV)
Ah, yes, words of encouragement indeed for those of us who are aging into numbers that surprise us!  Even for those in younger years reading this, how good to know that God will never limit our usefulness.  And that wonderful word, "flourish," is repeated, emphasizing we can do more than survive as we age; we can thrive!  I know that in order to do this, I'll need to stay closely connected to God and let Him nourish me, so I can flourish in Him.
Be encouraged with w.o.e. this week!