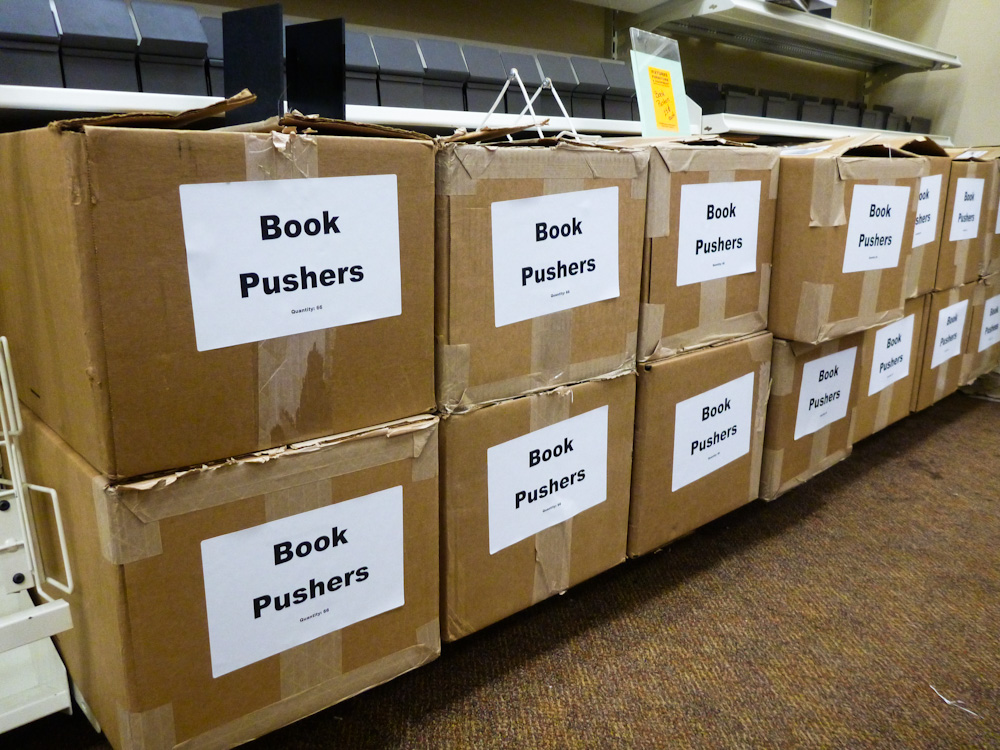 Photo and Commentary ©2019 by Maylan Schurch
Friday, July 12, 2019
To me, the above photo is a sad one. You may not know what a book pusher is, and I didn't until I saw all these boxes stacked up at a local Lifeway Christian bookstore which was going out of business. It was part of a nationwide chain of such stores, and they'd been unable to maintain their profitability. When I snapped this photo, the store had just two or three days left before closing, and the manager had put up everything—bookcases too—on sale.
When I opened one of the boxes, I discovered that a book pusher is a rack or stand you display a book on. (That triangular wire device you see on the second stack of boxes is a book pusher.) A book pusher angles the book so that you can easily see the cover, and can easily remove the volume to look at it.
Sadly, all the book pushers in the store couldn't keep Lifeway from closing. The store was even matching Amazon prices at the checkout counter, a benefit Shelley took advantage of many times.
Are you a book pusher? That's what Christians need to be. We aren't literal display stands for paper copies of God's Word, but we must be people who understand that we do not live by bread alone, but by every word which proceeds from the mouth of God (Matthew 4:4). It was Jesus who quoted that, and it was from the Old Testament. And it was the devil He was quoting that Bible verse to.
So you and I need to (1) discover how important the Bible is, (2) immerse ourselves in it so it can gradually change us, and (3) live our lives by what it says. A good place to start reading is the chapters after Jesus' wilderness temptation—Matthew 5 through 7. If you live out those principles alone, people will quickly discover that you're different, in a good way.
To read Matthew chapters 5 through 7 online, click the link just below:
https://www.biblegateway.com/passage/?search=Matthew+5+-+7&version=NKJV