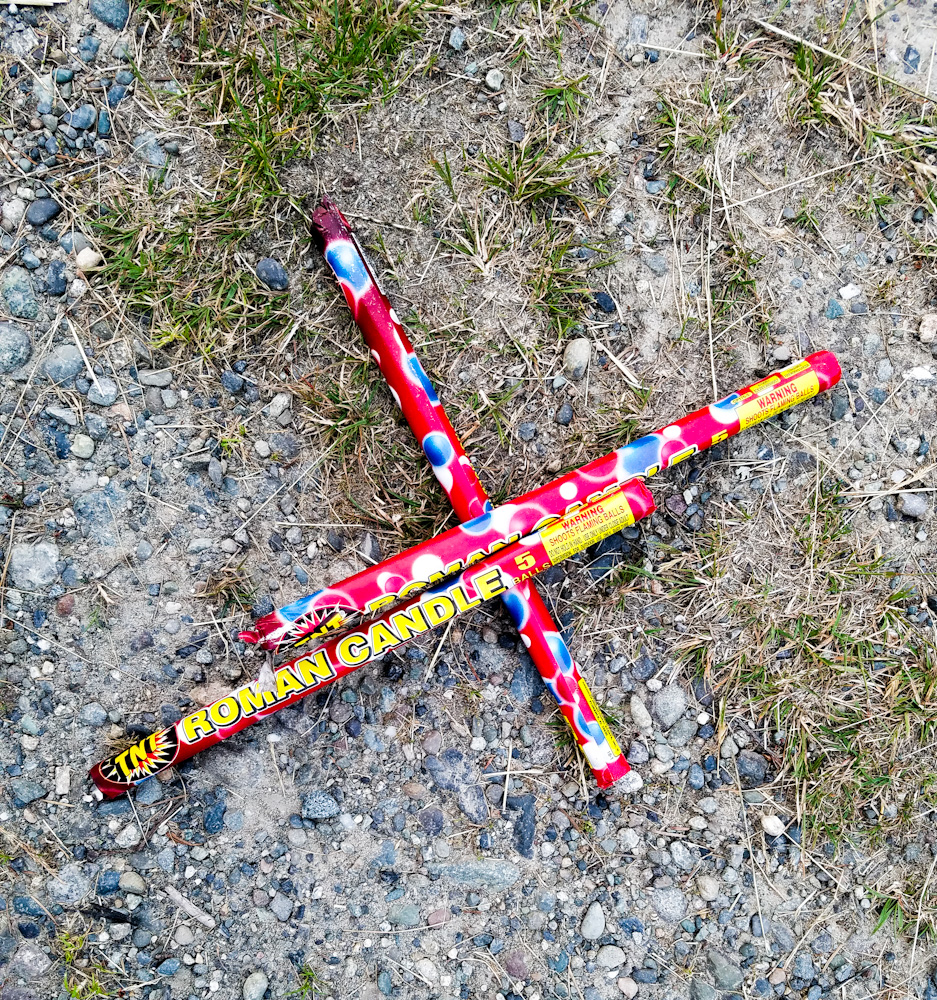 Photo and Commentary ©2019 by Shelley Schurch
Sunday, July 7, 2019
Our neighborhood celebrated the 4th of July loud and long, into the wee hours of the 5th of July, with an absent-minded boom sounding now and then the next night, well after the legal limit for such fiery festivities.
Most of the debris has been cleaned up, but last night as we ventured out on a walk we came across the leftovers shown above in my photo. The words, "Roman Candle," stared up at us. Maybe it's because we were walking near sundown on Sabbath, after hearing about Jesus' footprints in our morning sermon, that in these crisscrossed candles I saw a Roman cross—not any Roman cross, but Christ's cross.
We think of our 4th of July as a time to celebrate our independence and freedom, and to honor those who fought to keep our country free and independent of all who would rule over us. Each year on this holiday many people choose to become United States citizens, swearing their allegiance to their new country.
I'm so grateful that each day of the year Jesus invites us to choose to be citizens of His kingdom, pledging our allegiance to His word and His ways. In John 8: 31-32 He "said to those Jews who believed Him, 'If you abide in My word, you are My disciples indeed. And you shall know the truth, and the truth shall make you free.'"
Every day can be our Dependence Day, as we more clearly see our need to abide in Him, trust in Him, choose Him once again to be our Saviour and Sovereign. As we read His word, we hear Him patiently telling His audiences, all longing for freedom from their Roman oppressors, that He came to set up a different kind of kingdom, and offer a different kind of freedom. The truth dawned slowly for them, catching fire after His death and after the Holy Spirit moved upon hearts and minds in a powerful way.
I think the truth has dawned on me slowly, too, through the years, with God patiently teaching and encouraging me day by day. I celebrate His goodness and His grace, and once again declare my dependence on Him, rejoicing in His freedom and love.