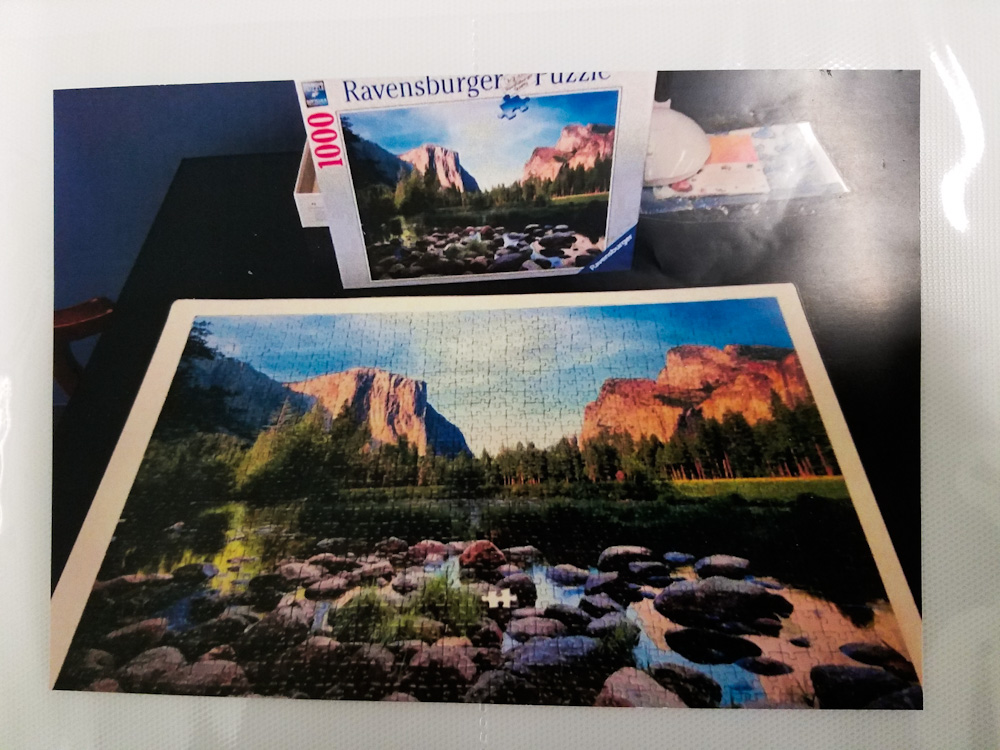 Photo and Commentary ©2019 by Shelley Schurch
Sunday, June 9, 2019
My photo is a photo of a photo, one of many jigsaw puzzle photos tucked in plastic sleeves in a small album.
Sabbath before yesterday, after our monthly church Gospel Sing-along with residents of the Evergreen Court Retirement Center, a woman pulled up a chair to a table in the Activities Room and bent to the task of finding and fitting pieces in the puzzle that was underway.
When she noticed my interest, she showed me the album of photos that documented puzzles residents had recently completed. The puzzle you see above is the one that caught my eye and caused me to reach for my camera – first for the beauty of the scene, and then for what was missing.
One piece. Front and center. In the midst of that majestic scene, one piece was missing. Does that set your mind humming with connections? It did mine.
Three thoughts brimmed to the surface for me:
1. In the midst of the good time we'd had, singing with our church friends and Evergreen Court friends, something was wrong. Someone was missing. Our dear friend Jeanette was not there. For almost 18 years she served as activities director, filling the residents' days with her friendship and care, and wonderful experiences. She was front and center, the heart of the Court. Her illness and death have left a hole there, and a hole in our hearts, until Jesus comes again with His resurrection power.
2. In the midst of the majestic scene of the put-together puzzle, there would be a missing piece for me if I admired it as beauty, but only beauty, unaware that it was Creation and unacquainted with its Creator. One of the songs we sing together at Evergreen Court is, "For the Beauty of the Earth," with its refrain, "Lord of all, to Thee we raise, this our grateful song of praise." It's good to see God's goodness all around, to know it's His, and to thank Him for it.
3. My third thought is that it's your turn. What do you see, and what do you think about, when you look at this photo with its missing piece? I'd enjoy hearing your take, and invite you to share it by emailing me at shelley.thanking@gmail.com.
In the midst of this often-puzzling, anxious world, be encouraged this week in experiencing first-hand the love of Jesus, who may be our Missing Peace!