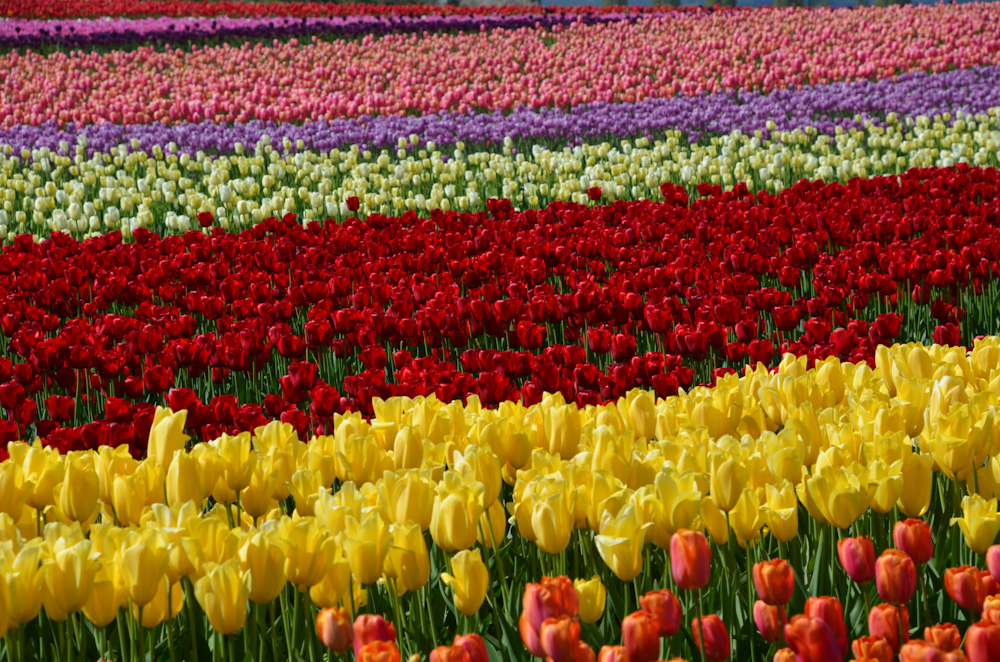 Photo and Commentary ©2019 by Darren Milam
Wednesday, April 24, 2019
I haven't had a chance to get up to the tulip fields this year, but this particular shot is from last year's amazing colors. This view reminded me of a rainbow, with the variety of colors which the tulips line up in. It also reminds me of a promise that God made to the world, and specifically to Noah and his family.
Genesis 9:1212-17, "And God said, "This is the sign of the covenant I am making between me and you and every living creature with you, a covenant for all generations to come: I have set my rainbow in the clouds, and it will be the sign of the covenant between me and the earth. Whenever I bring clouds over the earth and the rainbow appears in the clouds, I will remember my covenant between me and you and all living creatures of every kind. Never again will the waters become a flood to destroy all life. Whenever the rainbow appears in the clouds, I will see it and remember the everlasting covenant between God and all living creatures of every kind on the earth."
So God said to Noah, "This is the sign of the covenant I have established between me and all life on the earth.""
I presume that most of you have read this story, and the idea of this promise or covenant wasn't a new concept to you. That said, how many of us (including myself) think about this promise? I wouldn't think it's very often. There are very few times we are concerned with the entire planet being covered in water.
But maybe that's not necessarily what we should be focusing in on. Maybe instead, we should be looking at the fact that God wanted to make a promise to all of mankind. First off, God doesn't owe us anything. So the actual act of making the promise is an interesting one. If we take away the actual event (flooding the planet), we can see the root of the promise. I feel God wanted to insure that we know He's there for us, whether that means an actual flood, or a figurative "flood" in our lives, God is there to make sure it doesn't get too deep. He wants to be our lifeline, no matter what we are facing.
Keep an eye out for the rainbows in the sky, or the other signs of His promise – all the beautiful colors (like these incredible rows of tulips). God's messages to us can be found everywhere.