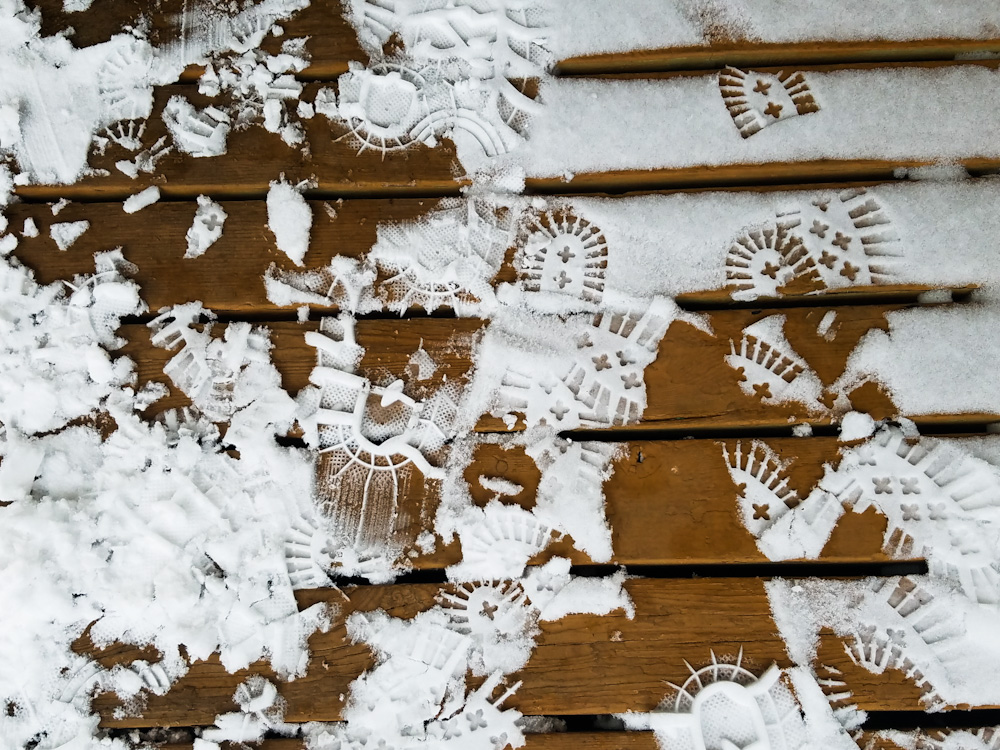 Photo and Commentary ©2019 by Shelley Schurch
Sunday, March 24, 2019
We'd heard the forecast; we knew what we had to do. A couple of hours before the first snowflakes fell, we drove to the store and bought boots – at 50% off, which warmed the cockles of my bargain-loving heart.
The price and fit were right; we didn't inspect the soles. It was only when we came home from our first trek in the snow that I noticed the patterns on our porch and snapped the photo you see above. One of us was printing crosses in the snow, and I found to my delight that it was me!
This time of year makes me more mindful of the Cross. For the last 35 years Maylan and I have prayed over and prepared a worship service of music and Scripture and stories that help us focus on Jesus and the choice He made to go to the Cross, all for love of us. (This year our worship service will be on April 13, a week earlier than usual, because we have a special music group coming to Bellevue on April 20, the day before Easter.)
What a deep blessing it has been for me to invest my time listening to music and reading and thinking about Scripture that unrolls the story of Jesus. Several years ago I thought of a phrase that seemed to well describe how He lived His life. Each time I share this phrase I first say that I mean to do so reverently. I believe Jesus was Cross-eyed.
As we follow Him through the gospels of Matthew, Mark, Luke, and John – and find Him in Old Testament prophecies and New Testament letters to the newly-formed churches – we see Jesus moving steadily forward, with the Cross always in view. Despite the devil's daily barrage of temptation, He would not be distracted, detoured, diverted, detained, or delayed. He was Cross-eyed and mission-minded, and we were His mission.
Are we also His joy? Listen to the encouragement we're given in Hebrew 12:1,2 to run the race, "looking unto Jesus":
"Therefore we also, since we are surrounded by so great a cloud of witnesses, let us lay aside every weight, and the sin which so easily ensnares us, and let us run with endurance the race that is set before us, looking unto Jesus, the author and finisher of our faith, who for the joy that was set before Him endured the cross, despising the shame, and has sat down at the right hand of the throne of God."
Look to Jesus, our source of joy, and be encouraged this week!