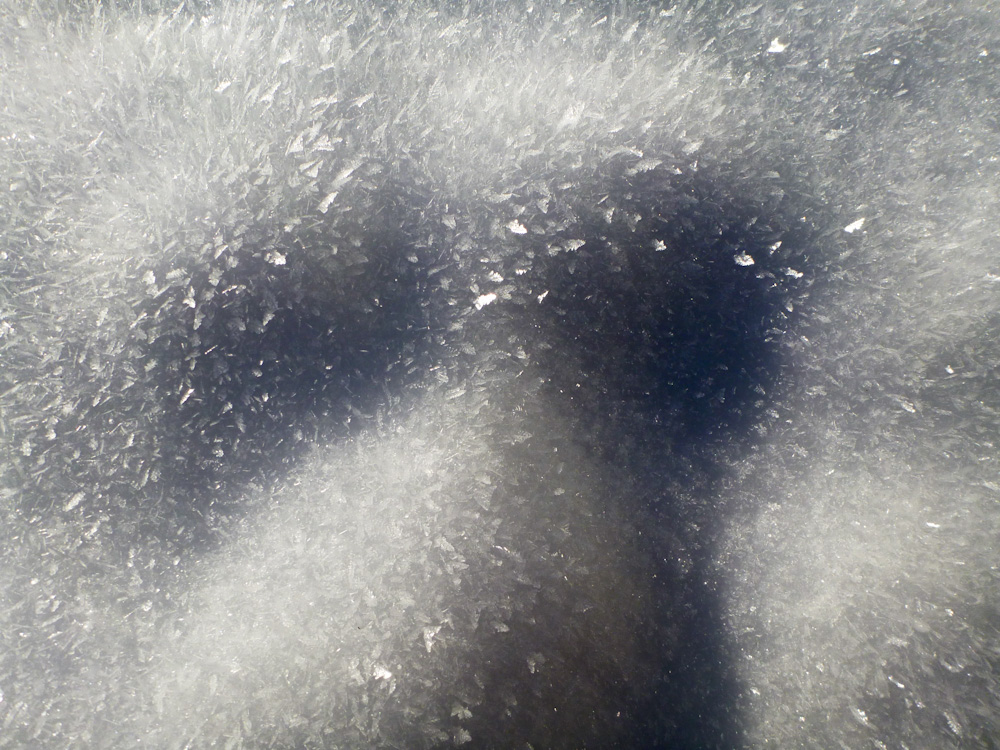 Photo and Commentary ©2019 by Maylan Schurch
Friday, February 8, 2019
If you live anywhere in the Pacific Northwest at the moment, you know very well that we're getting the kind of winter weather I grew up with in South Dakota—snow plus sub-freezing temperatures. I'm writing this Thursday evening, and you and I are both dreading Friday afternoon, which is supposed to supply our region with 6 to 8 inches of new snow which—since the ground has had several days to freeze—won't melt but will pile up. We may even have to cancel church on Sabbath (in fact, if you'd like to know the latest on that, go to this website's home page and then click "News and Events," or just click this link: http://bellevueadventist.org/?page_id=77)
Wednesday morning just outside our house I noticed that tiny, delicate, blade-like snow-crystals had sprouted out of a snowy hedge just beyond our front porch. I wrestled my camera from its belt case and took several photos, which don't do any sort of justice to the crystals' beauty.
But it wasn't until I clicked through those photos on my home computer that I discovered that the light-and-shadow pattern on one of these views looked like a face.
No, that's not God staring at me. (I'd somehow pictured Him with a smaller nose!) But I think this photo frame is crowded with God's miracles. Water is a miracle, as are the three basic forms it can take depending on its surrounding temperature. And each of those millions of frozen crystals on our hedges is a snowflake in another form, sprouting spontaneously and beautifully and uniquely—following an inexorable pattern of development—only to melt away when the sun glows upon it.
And maybe the greatest miracle of all (though who can rank them?) is that a human being can look at that photo and conjure up a human face!
To read more of what the Bible says about creation and its Creator, click the link just below: