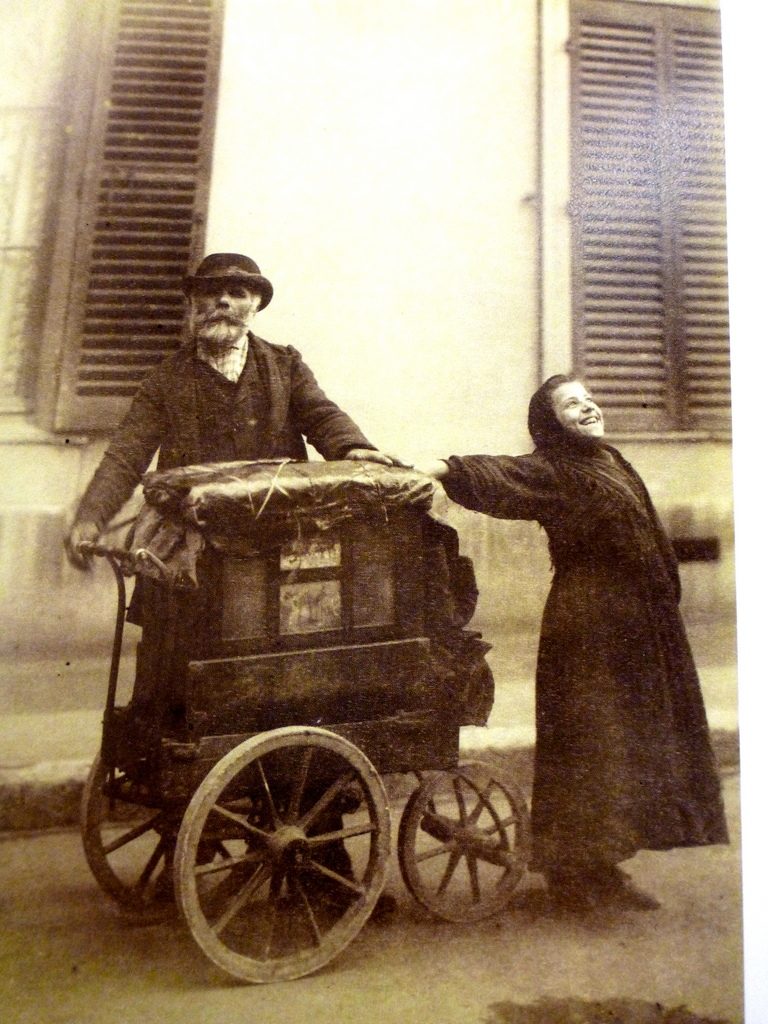 Photo and Commentary ©2019 by Maylan Schurch
Sunday, January 13, 2019
(If you're missing Bev Riter's usual Sunday blog, be patient. She's devoting her time to caring for husband Ron. But soon you should see some past photos of hers, from years back—classic Bev creations! Keep watching this space. — Maylan Schurch)
A couple of weeks ago Shelley and I made a quick trip to Portland, where we meandered through the rooms of the multistory Powells City of Books. On the top floor I found a book containing the above photo, which has had a powerful effect on my emotions since I first saw it as a college student. I immediately took a picture of it with my camera.
The title most often given this photo is "Organ Grinder." It was taken in 1898, possibly in Paris, by French photographer Eugene Atget (I'll include his Wikipedia entry below). The reason it touches me so deeply is that I grew up in the Great Plains, where the 1930s Depression hit really hard, and the worst years happened before my father turned 10. Those were desperate times, and they made him the sad and introspective person he often was.
Yet what makes this photo far more powerful than just a couple of poor people on a street is that, while the man is impassive – maybe numbed by years of poverty – the woman is singing. No matter how she feels, she smiles bravely and belts out a tune to make people happy enough to come over and give her a coin.
I don't know what the year 2019 will bring you, or me. If you trust what the Bible tells you, you know that things won't entirely be rosy. But if you are a part of a Bible-believing and Bible-reading church where people care for each other, you know people with this woman's spirit. And you also hear about the Man who humbled himself and became poor so that we could become as rich as He. And that's something to sing about!
Let this mind be in you which was also in Christ Jesus, who, being in the form of God, did not consider it robbery to be equal with God, but made Himself of no reputation, taking the form of a bondservant, and coming in the likeness of men. And being found in appearance as a man, He humbled Himself and became obedient to the point of death, even the death of the cross. Therefore God also has highly exalted Him and given Him the name which is above every name, that at the name of Jesus every knee should bow, of those in heaven, and of those on earth, and of those under the earth, and that every tongue should confess that Jesus Christ is Lord, to the glory of God the Father. Philippians 2:5 – 11 NKJV
To learn more about Eugene Atget, click the link below: