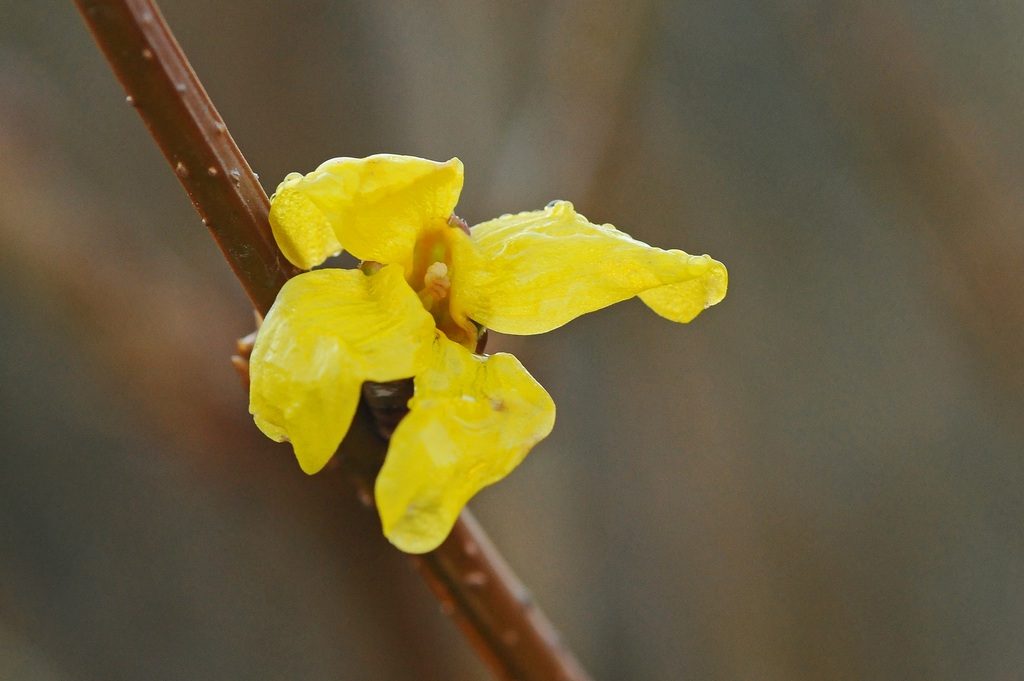 Photo and Commentary ©2019 by Robert Howson
Tuesday, January 8, 2019
Don't you just love being around people who are optimistic? Education, it seems, pushes us toward the opposite perspective; it encourages us to be skeptical, to question in order to determine validity. Certainly, we can recognize the need for that, but we can also all appreciate that breath of fresh air that comes with a swallow of the glass-half-full perspective. Ever since late November I've noticed a presumptuous shrub nearby, persisting on making a statement. Barren of leaves it is, but with four or five bright yellow flowers, it insists on doing its part to confirm Percy Bysshe Shelley's line, "If winter comes, can spring be far behind?". I know that forsythia is an early bloomer, that it adds yellow to our floral pallet long before daffodils venture to show their heads, but November?
Of course, that's why we give it special notice. It's not because its flowers are especially beautiful, but because it ventures to show its colors when those colors are notably absent from the season's parade.
If everyone is smiling and cheering because the home team won the league championship, that's to be expected. But it takes a true optimist to be positive when your team has been on the losing end of the scoreboard for the last 16 games. Some might call it being naïve, or just plain dumb, but the forsythia would say nothing. It would just show its true colors.