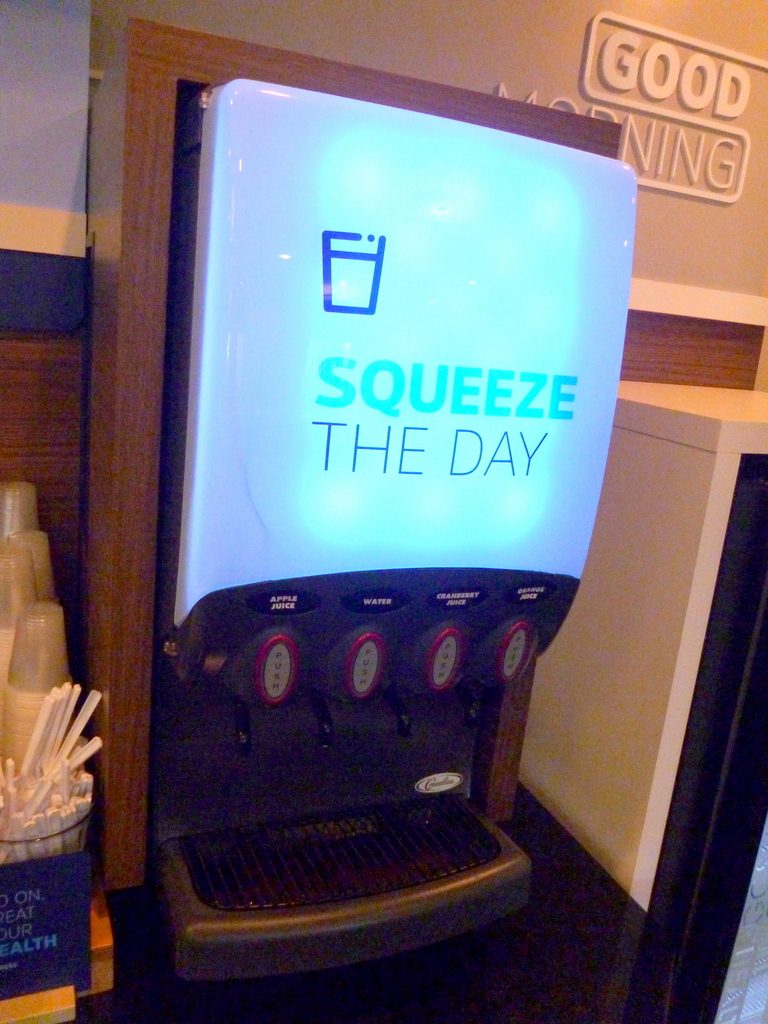 Photo and Commentary ©2019 by Maylan Schurch
Sabbath, January 5, 2019
Earlier this week Shelley and I took a quick overnight trip to Portland (Oregon), and stayed overnight in a Holiday Inn. The next morning, in the breakfast room, I discovered that the signs advertising the various food and drink items were a bit whimsical. I especially enjoyed the exhortation on the juice dispenser: "Squeeze the Day!"
Cute, right? But – like the New Year's resolutions I suggested in yesterday's blog – very true. And very Biblical.
Jesus, the master of paradoxes, provided a big one which is related to the juice dispenser's message. In Matthew 24 and 25, He insists that we prepare for the traumatic times just before His return, whereas earlier in the same book, after 18 verses encouraging us not to worry, He sums up this advice by saying, "Therefore do not worry about tomorrow, for tomorrow will worry about its own things . . . . (Matthew 6:34)
Maybe Jesus would give a chuckle at the play on words in the photo. But He would certainly encourage us to live each day as though it were the first – and the last – day of our lives. And He would insist that we stay in touch with Him, because He is the only one who can take us beyond today, and tomorrow, into that happy time when the calendar will have virtually no meaning.
Want to read some of what the Bible has to say about worry? Here's the link: