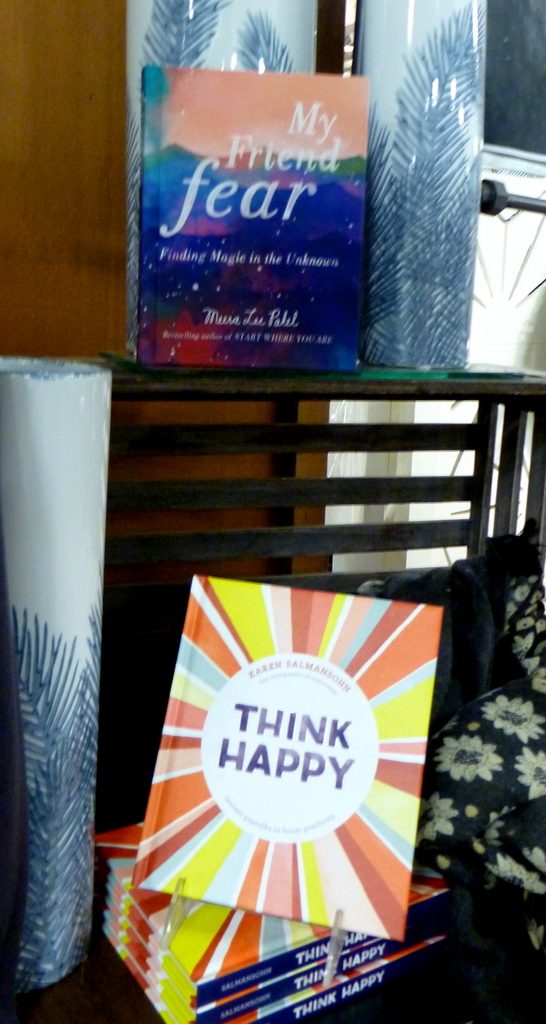 Photo and Commentary ©2018 by Maylan Schurch
Friday and Sabbath, December 7 and 8, 2018
This past Saturday night, Shelley and I were in a large nursery/greenhouse, to which was attached a large, multi-room gift shop containing thousands of Christmas items. There was also an occasional book, like the two displayed above.
Neither of these titles has anything directly to do with Christmas, as far as I can tell. My camera didn't have enough light to focus on them, so I'll repeat the titles to make sure you get them: My Friend Fear (subtitled Finding Magic in the Unknown), and Think Happy.
Okay, which is it? The books, I'm assuming, were written by two different authors, maybe a glass-half-empty person and a glass-half-full one. But from just the titles (I didn't peek into either) the first seems excessively gloomy and the second unrealistically Pollyanna-esque. I don't think I could make a friend of fear under any circumstances, nor could I "think happy" just because a book tells me too.
But for 35 years I've been preaching from the Bible almost every week, and it's that book I turn to most confidently to set my emotional thermostat. Two passages come to mind.
First, about fear: The disciple John, one of Jesus' closest friends, wrote, "There is no fear in love; but perfect love casts out fear." A sentence later he insisted, "But he who fears has not been made perfect in love." 1 John 4:18 NKJV
Then, about happiness: In the opening statements of His Sermon on the Mount (Matthew 5:3 – 12), Jesus mentions happiness nine times (the Greek word makarios is normally translated "blessed"). And a close examination of those verses reveals the startling truth that happiness isn't always a trouble-free, sunny-day, feel-good sensation.
I'm sure that the authors of the two books in the photo meant well, and there may be some truth in what they write. But I've always found it wisest to form my presuppositions from the Bible first.