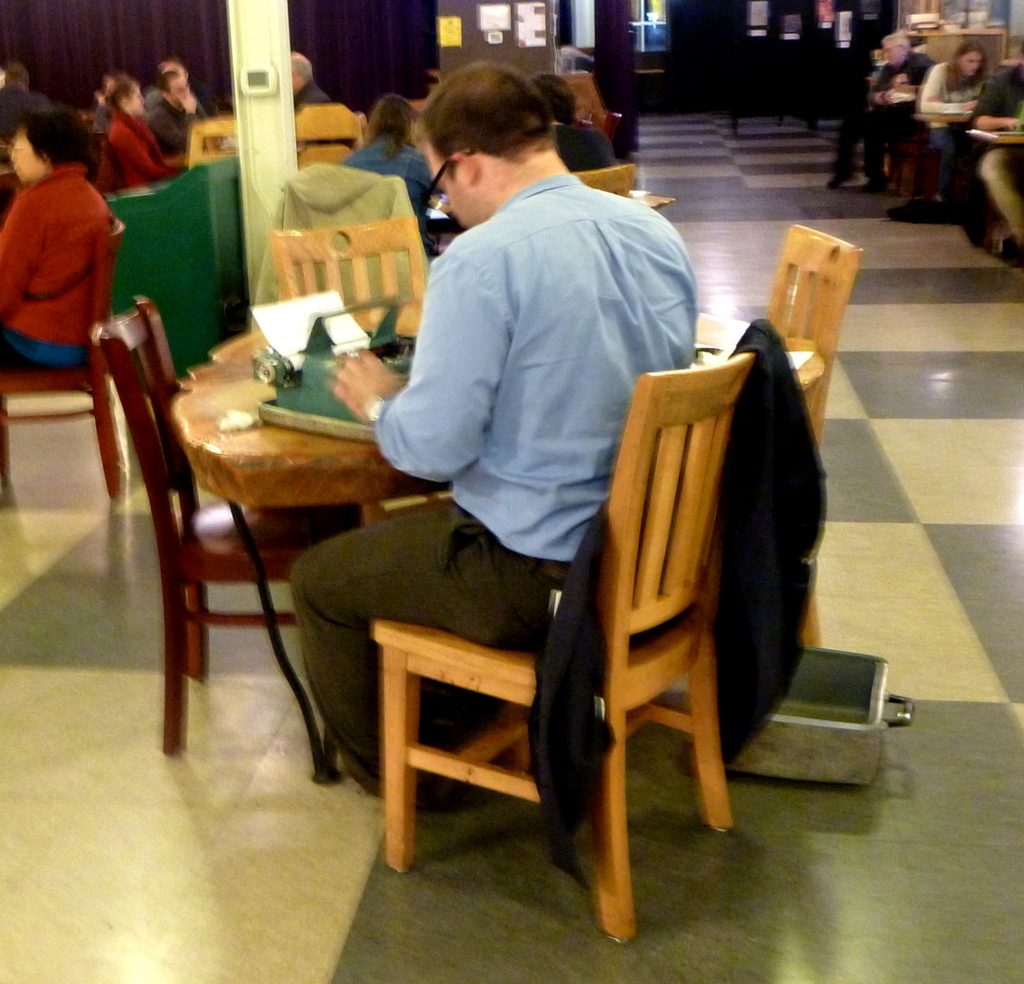 Photo and Commentary ©2018 by Maylan Schurch
Friday and Sabbath, November 16 and 17, 2018
Thursday afternoon of this week I had just finished a bit of work on this week's sermon outline at a mall. I was walking through the mall's eating area heading for my car when I spotted this young gentleman typing on an honest-to-goodness portable, manual Royal typewriter!
I snapped this photo from behind (it was a quick shot–sorry for the bad focus but maybe it'll help preserve his anonymity) and then went up to him to congratulate him. I had assumed that he was at work on the Great American Novel or something like that, but he told me he was writing a business form letter.
Back in the mid 1980s, I bought my first computer, an IBM PC-XT. I debated getting one with a hard drive of 25 megabytes of RAM, but the conventional wisdom back then was that nobody would ever need more than 10 MB, so that's what I got. (This was before graphics came on the scene. The original version of the photo you see above was 4.6 MB, which meant that my first hard drive would have barely been able to contain two such photos!)
The reason I bring up my first computer was that up to that point I'd been whacking out my sermons on a typewriter. One Sabbath Shelley and I returned home from church to discover that we had been robbed, and our new computer, and monitor, and printer, had vanished.
"Oh well," I said, grimly setting my jaw, "back to the typewriter." And I pulled out my portable, rolled in a sheet of paper, and tried.
I couldn't do it. Just a couple of months' experience with the joys of typing without carbon paper (such as not having to keep my shoulders tense so I wouldn't make a mistake and have to uncork the white-out) and I was hooked. I could not force myself to go back. So we bought another computer.
Sometimes what's old is good. But when it comes to a new spiritual life, there's no viable substitute. As Paul said, "Therefore, if anyone is in Christ, he is a new creation; old things have passed away; behold, all things have become new." (2 Corinthians 5:17 NKJV)
When's the last time you got a "salvation checkup"? Take a moment to do one now. Click the link just below.