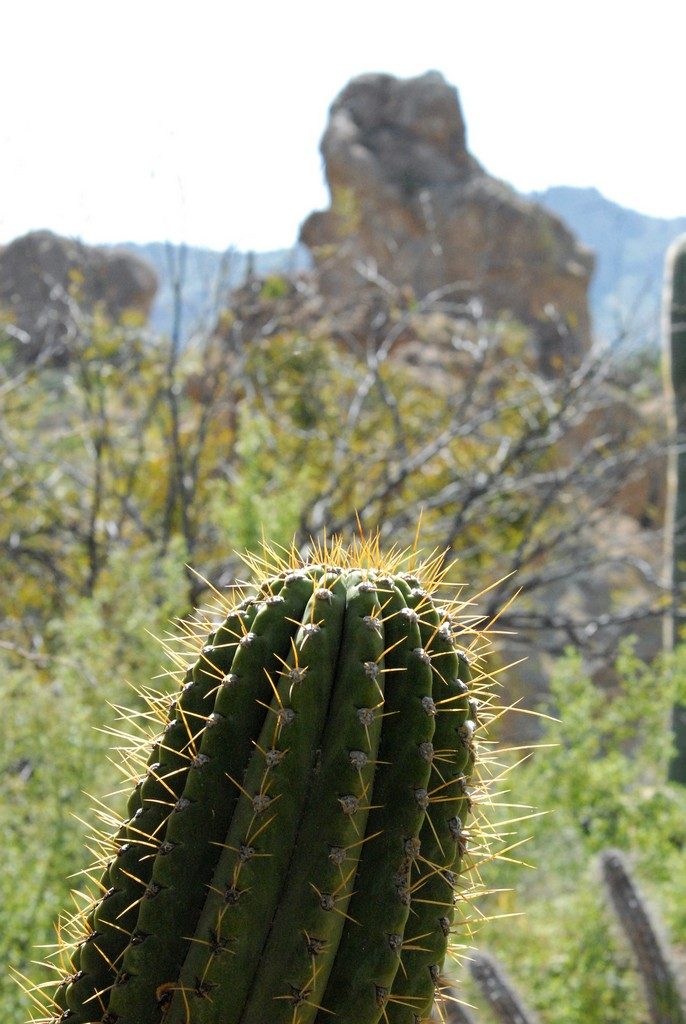 Photo and Commentary ©2018 by Darren Milam
Wednesday, November 6, 2018
Well, maybe not exactly. This time of year, in the Pacific Northwest, we see the leaves changing colors, we see an increase of morning fog, we see the sun rising a bit later and we can feel the temperature dropping. These are all signs of summer being way in the distance and Fall is upon us. When it's Fall, more sweaters and jackets are worn. We remember the days when the sun was out and we wanted to run to the beach. This is the time of year, we want to find a nice spot where the air temperature is warmer (maybe in the 80's) and sun is shining (more than likely requiring a long car ride, or an airplane flight).
This image was taking during Spring, down in Arizona, specifically at the Boyce Thompson Arboretum – due east of Phoenix. No, the saguaro you see here isn't the epitome of "fuzzy," but the day sure was warm. It was a pleasant air temperature, the sun was out and it felt great.
I may or may not have describe a day you would enjoy. I know some would rather be in the colder climate, or maybe prefer being inside cozied up with a book, on a drizzly day. Whatever your "warm and fuzzy" is on this planet, I feel we share common thoughts about "perfection," when it comes to leaving this planet safely behind us and finding a much better location.
John 14:1-4: "Do not let your hearts be troubled. You believe in God; believe also in me. My Father's house has many rooms; if that were not so, would I have told you that I am going there to prepare a place for you? And if I go and prepare a place for you, I will come back and take you to be with me that you also may be where I am. You know the way to the place where I am going."
God, preparing a place for me? Can you imagine the place you and I will find, given God has been doing all the prep work. I would suspect it will be fit for each of us and our personal interests. Regardless of the particulars, it will absolutely be warm and fuzzy!