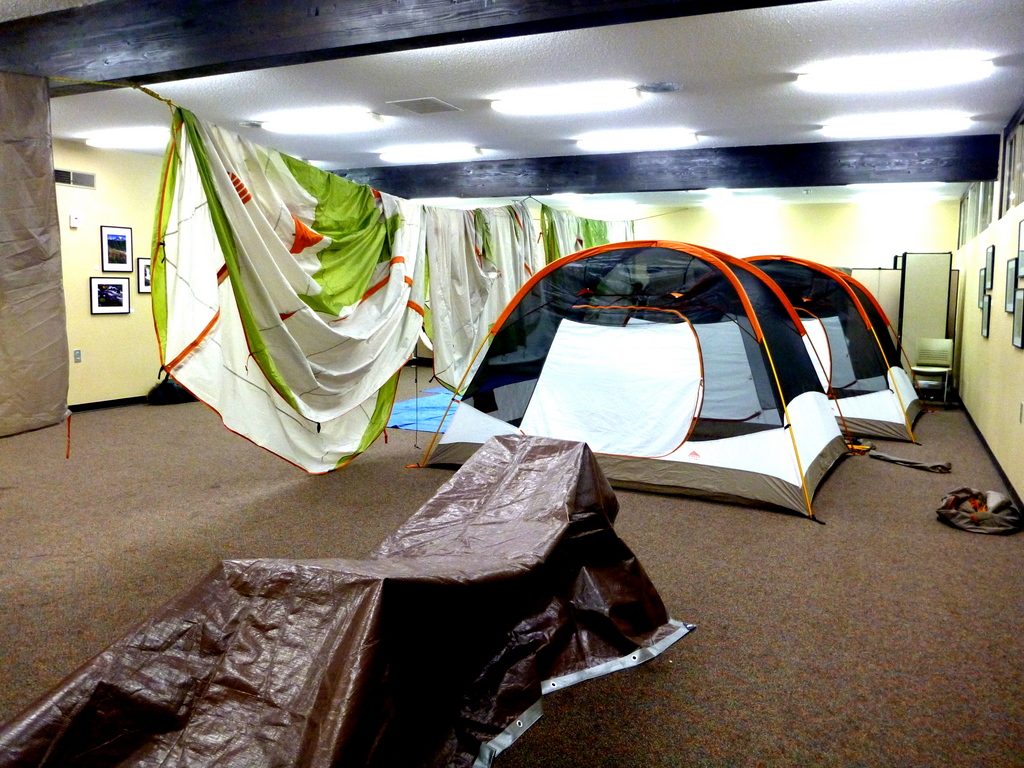 Photo and Commentary ©2018 by Maylan Schurch
Friday and Sabbath, October 12 and 13, 2018
Tuesday evening of this week I was at the church when one of the co-leaders of our Pathfinder club dropped by. (Pathfinders is a co-ed version of Boy Scouts or Girl Scouts.) The club had been on a campout this past weekend, and it had rained enough to dampen the tents and plastic tarps which are part of their gear. So when they returned home Sunday, the leaders hung them to dry in our large fellowship hall (above) and in a long hallway in a lower level.
When the leader arrived, I offered to help fold the by-now-dry tents with him, and he accepted. Thanks to his experienced knowledge of what to do, the task went quickly.
Not being a camper, I hadn't kept up with how far tent technology had come since the bad old days of heavy canvas. I was amazed at how light yet waterproof today's fabric is. Two large tents can be folded and rolled into a small enough packet to fit—along with their collapsible poles—into a bag like the one you see on the right edge of the photo. And one ten-year-old could easily carry that bag.
When I look at the photo above, it reminds me that you and I need to travel through life with "lightened tents." Our purpose should not be so much to settle down and accumulate possessions around us, as to be quick on our feet, ready to go where, and do what, the Lord wants us to do.
Many years ago, armed with a couple of teaching degrees, I had just settled down in Lincoln, Nebraska to teach English at an Adventist college. But shortly after the Lord provided me with an intelligent, perceptive and loving wife, He called me into the gospel ministry. This meant uprooting ourselves from Lincoln, going to seminary in Michigan, and eventually moving out here to the Puget Sound area, where we've been ever since.
One of my dad's favorite songs was "A Child of the King." The verse we could hear him crooning softly while going about his work was this one:
A tent or a cottage, why should I care?
They're building a palace for me over there;
Though exiled from home, yet still may I sing:
"All glory to God, I'm a child of the King!"
–Harriet Buell