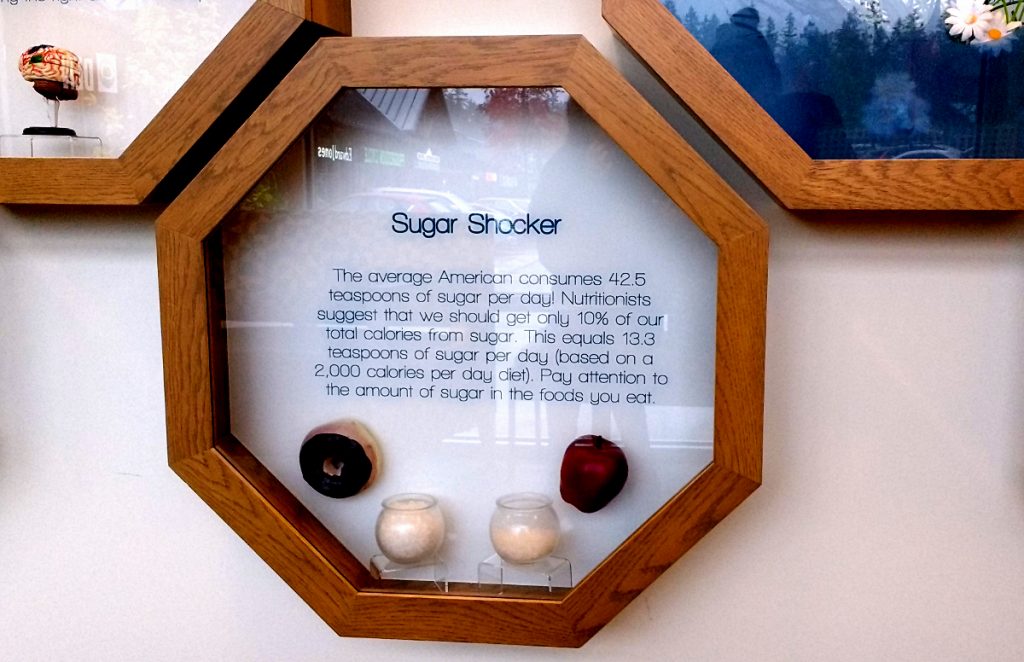 Photo ©2018 by Amber Jurgensen
Commentary ©2018 by Russell Jurgensen
Thursday, October 11, 2018
In this image there are a few interesting surprises. The primary subject is helpful with good advice on being mindful of sugar intake. Reducing sugar along with regular exercise can go a long way to improving health and making a person feel better. However, there are several other things that caught my attention in this picture.
The model of a brain in the top left corner is cool, and the daisy at the top right is nice. But, by looking at the reflections in the framed pictures, you can start to discern the environment looking the opposite direction. You can see a parking lot with cars (look just above the "Sugar Shocker"). You can see the silhouette of the photographer (the "ker" in "Shocker" is just inside the silhouette). The head of the silhouette is in the picture at the top right, with a little hair bun.
Just like we can see things in reflections of pictures, our lives are also reflections. "As water reflects the face, so one's life reflects the heart." Proverbs 27:19
Let's strive to keep the Lord in our hearts so we can be reflections of God's love.