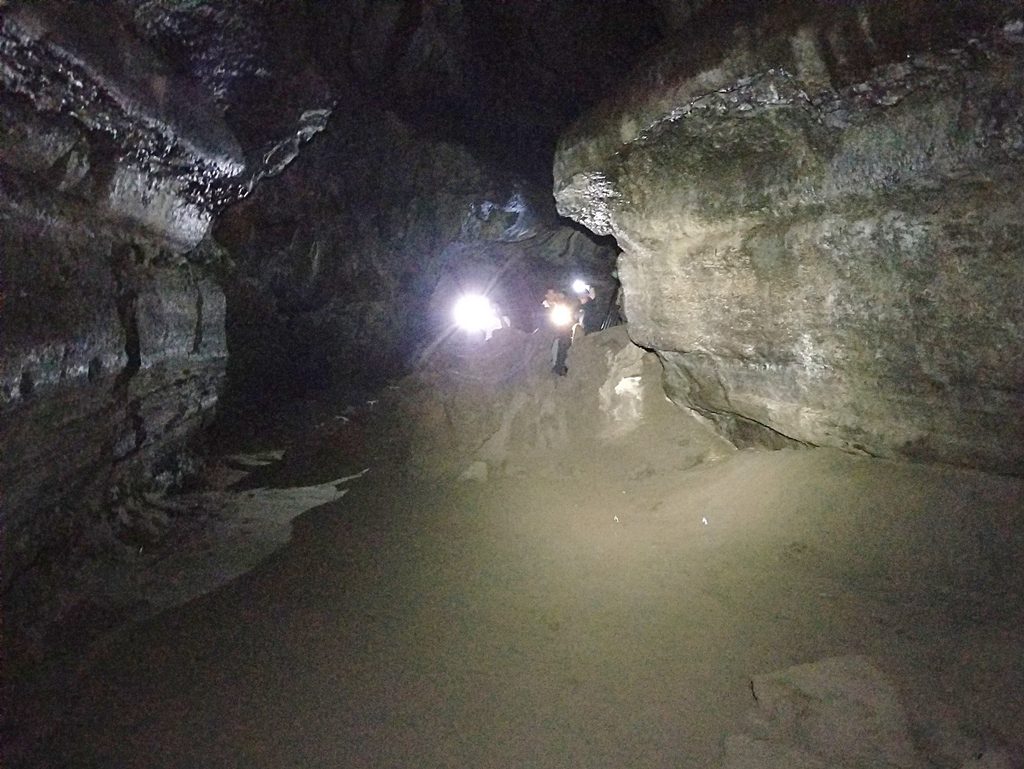 Photo and Commentary ©2018 by Russell Jurgensen
Thursday, October 4, 2018
The Ape Caves near Mount St. Helens were formed when lava ran down the side of the mountain. The outer crust of the lava hardened, but lava continued to flow inside, forming a tube. When the lava stopped, it left an empty cave. In this picture, you can see how the lava ran at different levels forming lines. Today, the cave is nearly hidden underground deep in the woods.
A ranger told us that the man who discovered the cave had no light source, so he entered the cave with a handful of rocks. In pitch darkness he reached out and dropped a rock. If he could hear it land at foot level he would take a step. At one point he reached out and dropped a rock, but heard nothing. He was standing at a ledge with a 20 foot drop. Now there is a staircase leading to the tube below where it is safe to walk.
It is interesting that in this world, people are free to explore ways of living that may not line up with the Lord's law of love. It is also interesting that we are free to explore what it is like to live according to God's law. It might seem like uncharted territory and difficult to see very far ahead. The Bible promises that when our hearts are lined up with His to have the proper desires, he will give us those desires.
"Do not fret because of those who are evil
or be envious of those who do wrong;
for like the grass they will soon wither,
like green plants they will soon die away.
Trust in the LORD and do good;
dwell in the land and enjoy safe pasture.
Take delight in the LORD,
and he will give you the desires of your heart." Psalm 37:1-4
So let's go out exploring how the Lord can make our lives better.