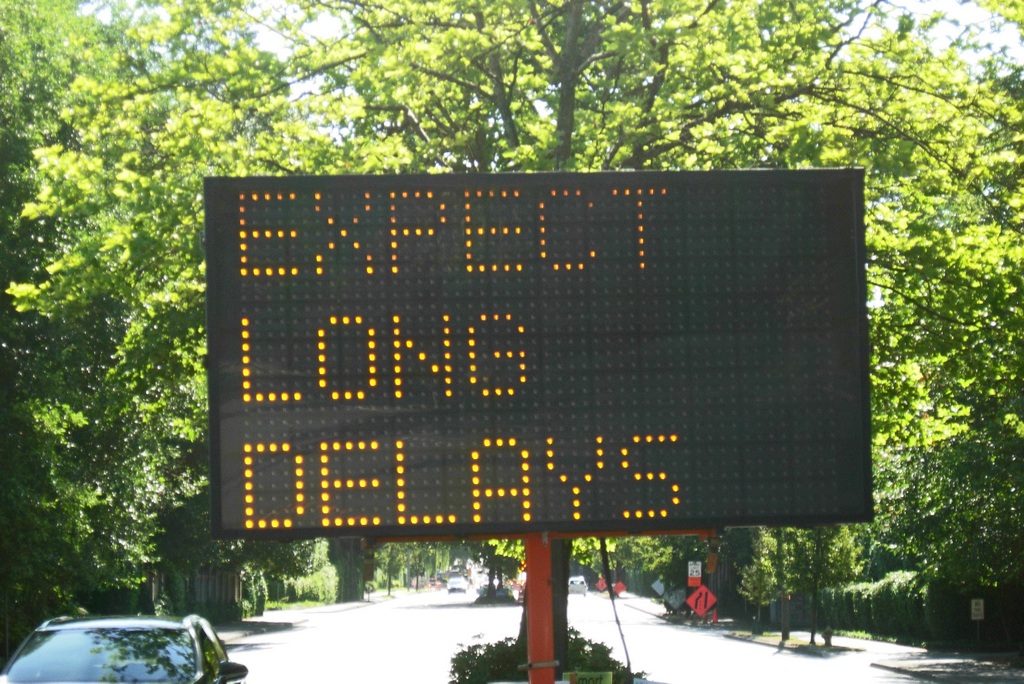 Photo and Commentary ©2018 by Robert Howson
Tuesday, August 7, 2018
On the road to church we encountered two of these signs.  Since road construction and repair seem to be a never ending project, their presence did not come as a particular surprise.  In fact, since it was Sabbath morning and the crews were not working, there was no delay at all.  Still, the signs flashed their warning that from the 16th-20th we should be prepared for long delays.
It made me wonder, what if the writer of Hebrews had revised his warning.  Instead of: "For, 'In just a little while, he who is coming will come and will not delay.'" (10:37 NIV) he deleted a "not" so it would read, ""In just a little while, he who is coming will come but will delay."?  Sounds more accurate that way doesn't it, for it certainly seems like Christ's return has been delayed.  We should remember that God always speaks of time as being short and we explain this by suggesting this is true because God is not bound, like man, to the confines of time. The problem with this is, it is man that is being addressed, so it's easy to become confused about what is meant by the word "soon".
John, writing to us toward the end of his life, seems to have adjusted his thinking from a belief in the immediate return of his Lord to an acknowledgement that he had grown from a young man who had first met Christ to an old man who was still waiting for His return.  Revelation 10:6 says: "And he swore by him who lives forever and ever, who created the heavens and all that is in them, the earth and all that is in it, and the sea and all that is in it, and said, "There will be no  more delay!  (NIV)  Here the angel is admitting there has been a delay.  And I'm grateful for that.  Not that He has delayed His coming, but that I can think of that event in terms that have some meaning to me.
Do I wish God had posted a sign, like the one seen on the way to church?  No, I'm glad that in His wisdom He shared the propinquity of the event.  It makes His presence and the desire to be with us even more real.  Do I still have a problem understanding time?  Of course.  But it might be appropriate to ask: Do I have more confidence in an all knowing God than in the guys with hard hats and shovels in their hands standing by the side of the road?