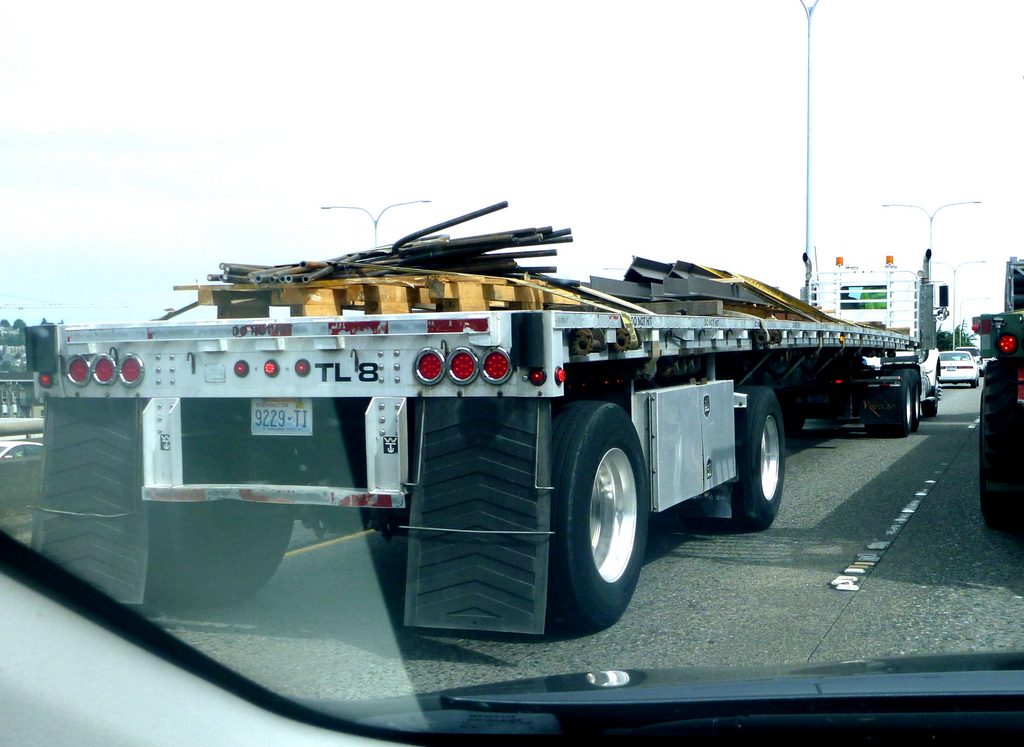 Photo and Commentary ©2018 by Maylan Schurch
Sabbath, July 7, 2018
A week and a half ago I rolling along Interstate 5 through Seattle when I spotted the flatbed truck you see in the photo above.
Ordinary-looking truck, right? It looks like it's carrying—at least at the end closest to the camera–a small load of pipes. Actually, I took that photo only after I took an earlier photo while pulled up alongside. On the edge of the flatbed I was startled to see this piteous plea: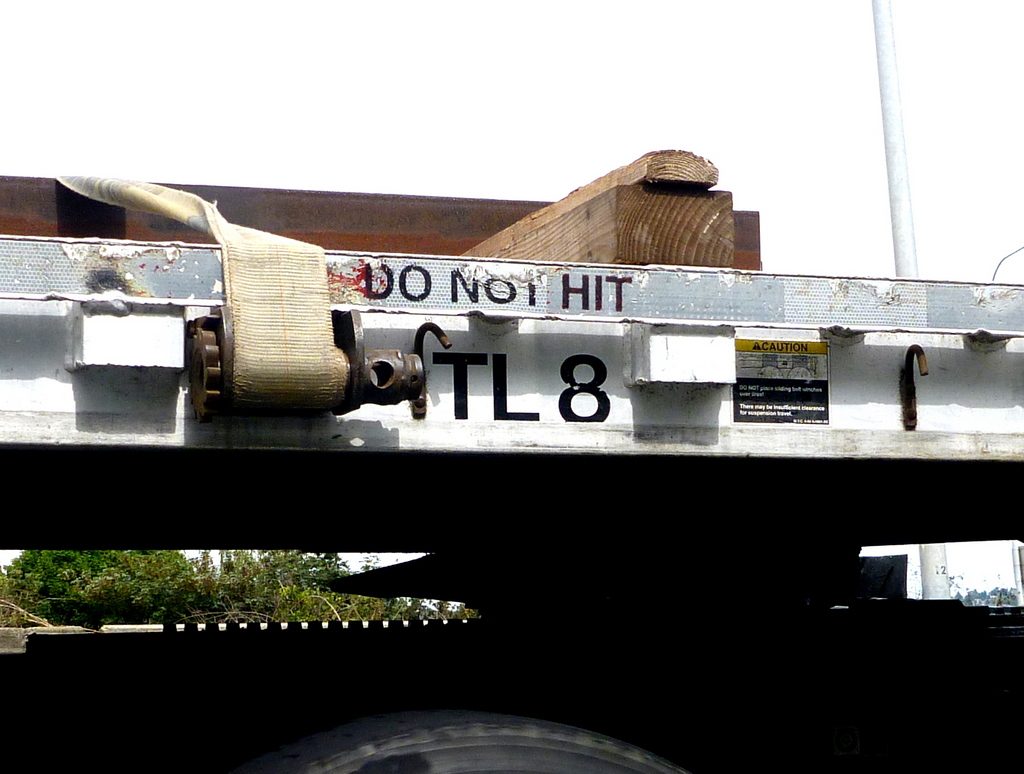 "Do Not Hit" was stenciled several times on that gray-and-white metal strip all the way down the flatbed trailer, and on the back, and probably on the other side as well.
I grew up on a farm, and my first thought was, "If you don't want your work equipment damaged, don't depend on meek little signs to protect it. Build it tougher!" It seemed as though this metal strip might be used to tie the load down—but if it's too wimpy to withstand a hit, then it's probably too wimpy to have a rope lashed to it. In fact, the tie-down strap in the photo is not attached to the strip, but goes over the top of it and onto a spool sturdily bolted to some stronger metal below.
So what's happening here? I have absolutely no clue as to why this flatbed was designed this way. If you'll look closely at that "Do Not Hit" strip, you'll see that despite the printed warning it has received quite a few dings and dents over the years.
Life isn't easy for any of us. We can start the day happy and complacent, and a single cutting remark at work can leave us disillusioned and stomach-crampy. We can assume people mean well, and then discover their flashes of unselfishness. And most horrible of all, we can find these tendencies in ourselves, and wonder if there's really hope for us.
This is where the Bible helps. First, it gives us a sense of perspective, a wide-angle view where we can place our hurts in a cosmic context—Jesus, and even God Himself, have been falsely accused, but righteousness will finally prevail, and secret things be made known, and evil banished while good becomes the norm.
The website www.bibleinfo.com is where I often direct readers of this blog to help them gain Bible insights on any number of issues. I'd suggest that you check out that website and spend time there. For now, you might want to look at the link below: