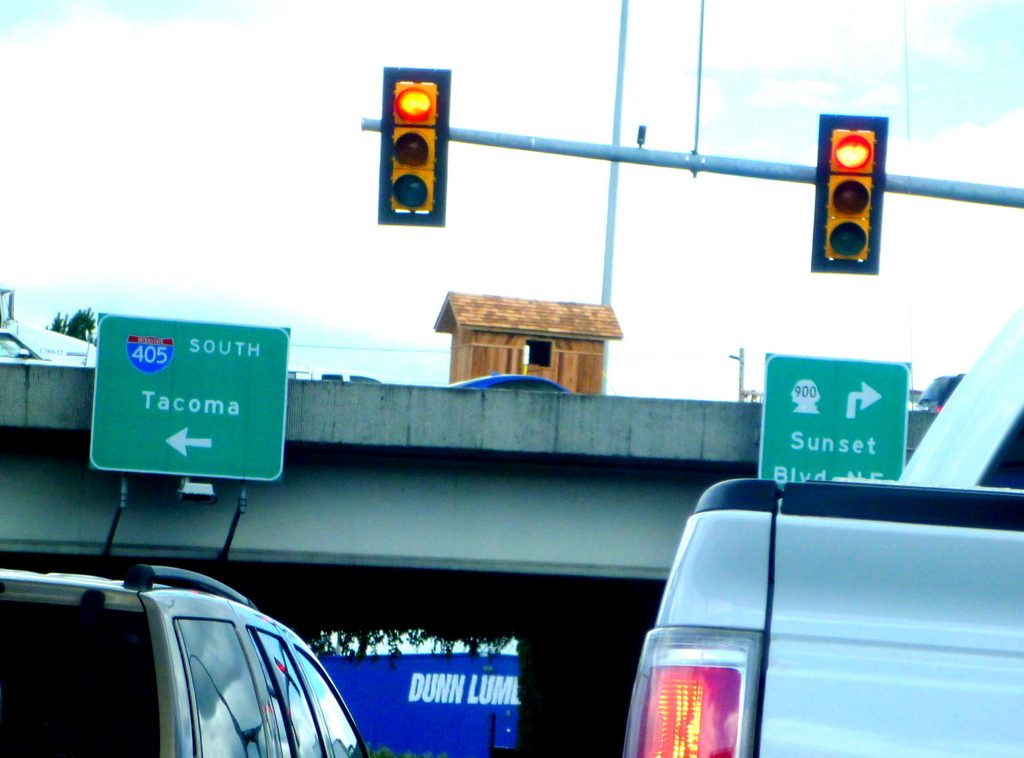 Photo and Commentary ©2018 by Maylan Schurch
Wednesday, June 27, 2018
A week or so ago, as I was stopped in traffic approaching an I-405 overpass, I noticed what looked like a tiny house or shed up there on the freeway. Since people don't normally plant little sheds there, and since this one started to move north, I deduced that it was on a truckbed.
But it reminded me of a song by the Chuck Wagon Gang, a very popular gospel singing group whose songs my dad hugely enjoyed. And he wasn't the only one. Though the "Gang" featured both men and women, mostly from the same Southern family, and though their only accompaniment was a guitar strummed by the bass singer, they sold millions of records in the Christian world.
The song I remembered was "I'd Rather Have Jesus"—not the traditional George Beverly Shea one but a totally different song. I've included a link to where you can hear the Chuck Wagon Gang sing it (as well as see their photos). The song's chorus talks about a shack by the side of the road, and expresses the idea that I'd rather be rich in the things of heaven, though it might mean a certain amount of poverty below. Here are the lyrics, and then you can click the link:
Men strive for the wealth of this wide wicked world
They seek after honor and fame
So lavishly sporting their diamonds and pearls
They put the dear Savior to shame
Chorus:
I'd rather live in Heaven than to own all earth's silver and gold
And I'd rather have Jesus than the diamonds of a palace to hold
And I'd rather be a beggar and live in a little shack by the road
Than to own all earth's treasures with no title to a future abode
What profit is found in earth's silver and gold
How sad at the close of life's day
If for the exchange one must lose his own soul
From Heaven's door be turned away