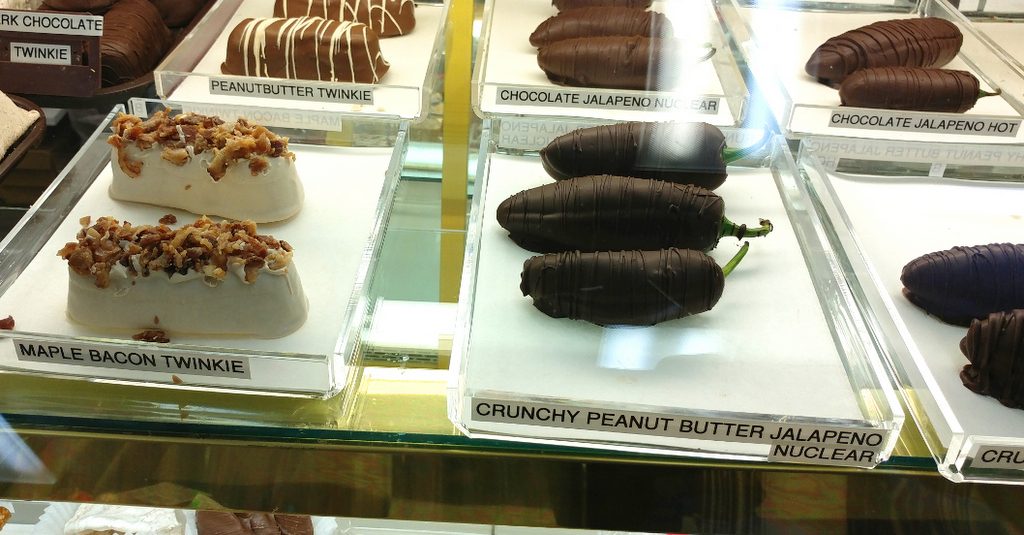 Photo ©2018 by Chelsea Jurgensen
Commentary ©2018 by Russell Jurgensen
Thursday and Friday, May 24 and 25, 2018
On a beach trip, we stepped into a local bakery to see what they had to offer. Besides the normal maple bars and sugar donuts, there were some other, more unusual, items. I think these are for brave souls. The text in the picture might be small. The items are Birthday Cake Twinkie, Dark Chocolate Twinkie, Peanut Butter Twinkie, Maple Bacon Twinkie, Chocolate Jalapeno Hot, Chocolate Jalapeno Nuclear, and front-and-center Crunchy Peanut Butter Jalapeno Nuclear.
These items remind me of the Bible verse, "Taste and see that the LORD is good; blessed is the one who takes refuge in him." Psalm 34:8. You might need to take refuge in the Lord if you ate one of the Jalapeno Nuclear desserts.
It is amazing, however, what a wide variety of possible foods the Lord provided for us. Let's enjoy the Lord's goodness, and regularly take refuge in Him in all aspects of our lives.