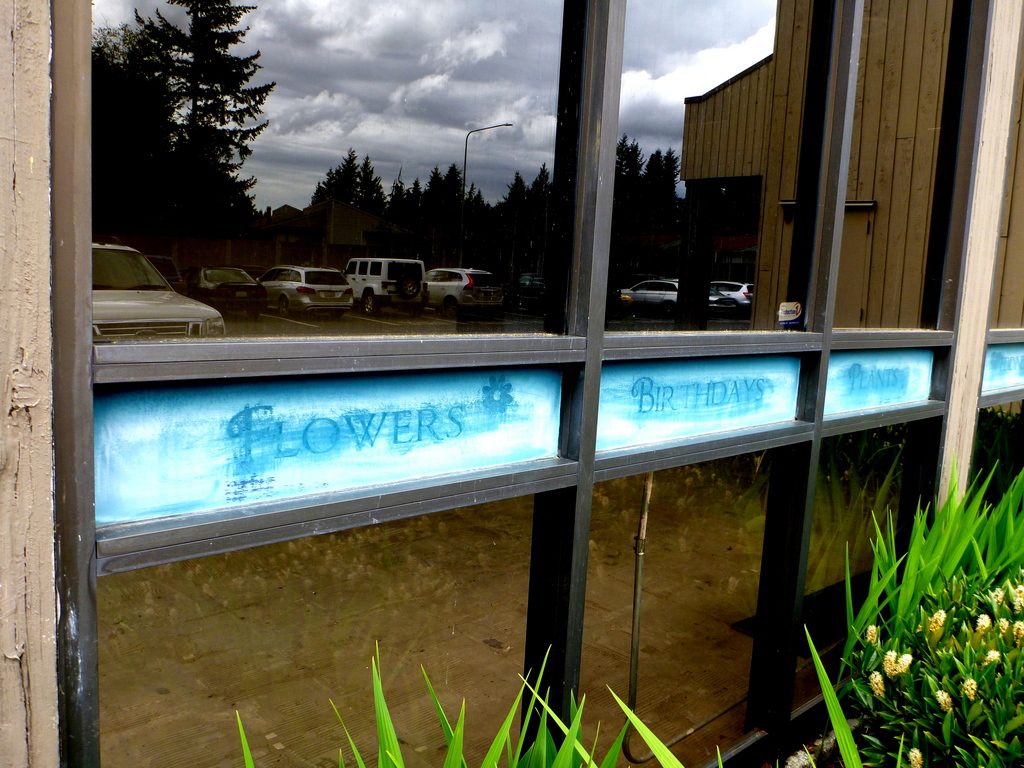 Photo and Commentary ©2018 by Maylan Schurch
Sabbath, May 12, 2018
Shelley's and my wedding anniversary happens in May, and earlier this week—following my usual practice of "buying local" whenever I can—I stopped in at a little flower shop I've often patronized, located about a mile from where we live.
I was thunderstruck to see that it was gone! And I have never seen a store more "gone" than this one. The large professional sign at the top of the store had disappeared, and it even looks as though someone with a blue-tinted paintbrush has daubed it through "Flowers" and the other words above to try to disguise them.
"Well," I said to myself, "I'll go around the corner to the entrance and study the sign from the owner that will direct me to the new location. Hopefully it's nearby."
But there was no posted notice, not even a "Thanks for your patronage all these years." I peered through the windows and saw no flower cases, no counter, nothing whatever to indicate that this was a flower shop.
It's always sad to see a business disappear. But as I stare at the photo above, song lyrics come to my mind about a time when all earthly ventures will come to a close:
The marketplace is empty
No more traffic in the streets
All the builders' tools are silent
No more time to harvest wheat
Busy housewives cease their labors
In the courtroom no debate
Work on earth is all suspended
As the King comes through the gate
O the King is coming
The King is coming
I just heard the trumpets sounding
And now His face I see
O the King is coming
The King is coming
Praise God, He's coming for me
–Charles Millhuff, Gloria Gaither, Willam J. Gaither
To read what the Bible has to say about Jesus' return, click the link below: