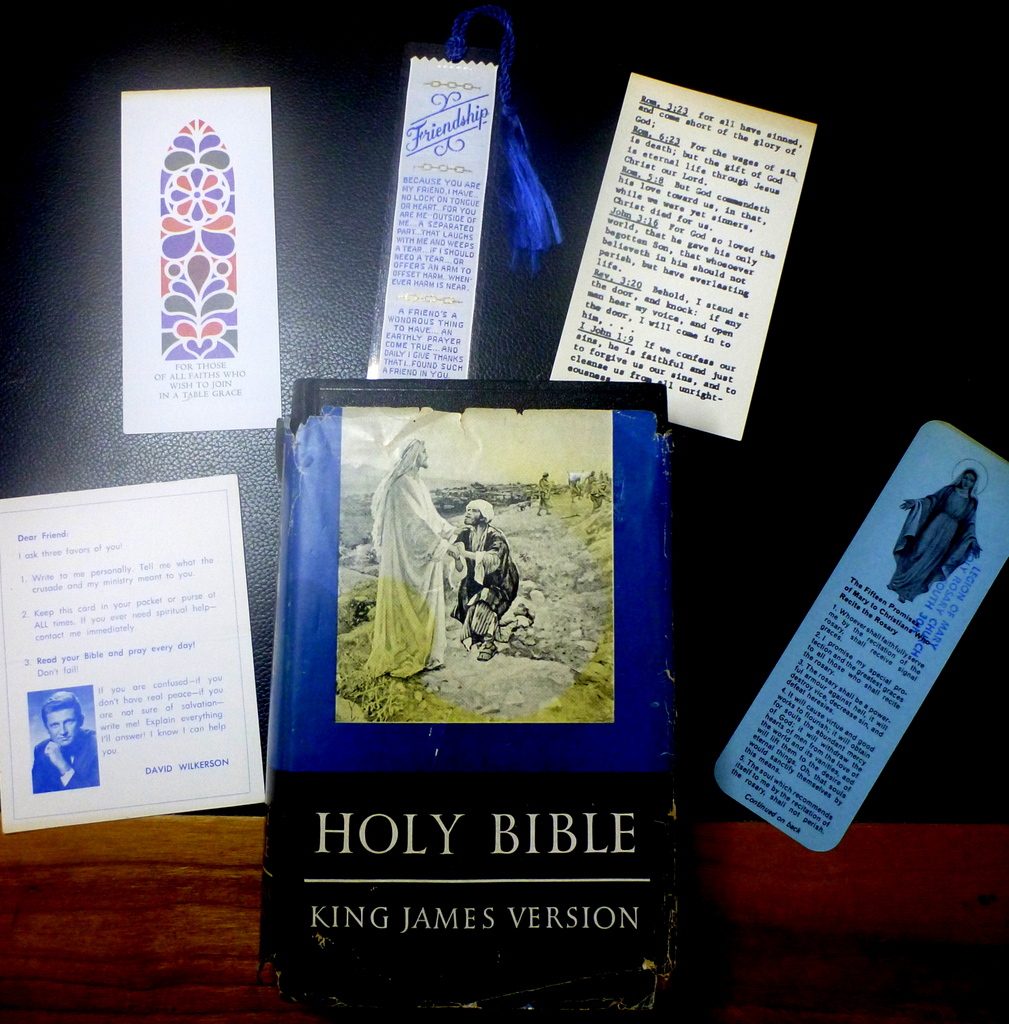 Photo and Commentary ©2018 by Maylan Schurch
Friday, May 11, 2018
I was raised on the King James Bible, and still read it with pleasure, maybe partly because as an English major and later a teacher, I both read and taught Shakespeare, who wrote his plays during that era.
So this means that whenever I'm in a used book store and see an elderly KJV whose print is clear, my heart feels a tug. Earlier this week I responded to this tug, and I now own the copy you see in the photo above. It has no name in it, and no underlinings.
When I got it home and flipped through it, I discovered that it contained the items you see laid out around it. I've arranged them by how they appeared in the pages. The card on the lower left with the blue picture came first in the Bible, the narrow card with the stained-glass window design second, and so on. And as I studied them, in order, I detected what might possibly be a spiritual journey.
The blue photo on the first card is David Wilkerson, an intense Pentecostal evangelist who also engendered the film "The Cross and the Switchblade," about a gangster who came to Christ. This was a card he handed out at his evangelistic events, to those who came forward to give their lives to Jesus. "Dear Friend," he writes, "I ask three favors of you! 1. Write to me personally. Tell me what the crusade and my ministry meant to you. 2. Keep this card in your pocket or purse at ALL times. If you ever need spiritual help—contact me immediately. 3. Read your Bible and pray every day! Don't fail! If you are confused—if you don't have real peace—if you are not sure of salvation—write me! Explain everything. I'll answer! I know I can help you. – David Wilkerson."
The second card comes courtesy of Continental Airlines, and below the design it says "For those of all faiths who wish to join in a table grace." Inside the card are segments of two Psalms, the first to be prayed before the meal, and the second afterward. So whoever owned this Bible traveled by air, and thought this card (which evidently came with the meal) was worthy of inclusion in the Bible.
The third item, adorned with a royal blue tassel, is a bookmark with the theme of friendship. The fourth item is a card on which six Bible texts are listed, giving the steps to salvation.
The fifth item—the furthest back in the Bible–is a somewhat sharp turn-away from what so far is been a fairly Protestant collection. This blue card is headed with a picture of a haloed Virgin Mary, and contains "The Fifteen Promises of Mary to Christians Who Recite the Rosary." How the card's producers got access to Mary for an interview remains a mystery, but her third reason gives you the flavor of the rest of them: "The rosary shall be a powerful armour against hell, it will destroy vice, decrease sin, and defeat heresies."
Interesting collection, right? But what struck me as vaguely depressing is that, though the tattered wrapper indicates that this Bible may have been carried from place to place (such as on a trip via Continental), it doesn't seem to have been otherwise used much. It doesn't naturally fall open to passages besides those where the cards were inserted. Where this spiritual journey ended, I will never know this side of heaven.
But in honor of the mysterious stranger who owned it before me, I'm going to read in it regularly!
To read some of what the Bible says about itself, click the link below: