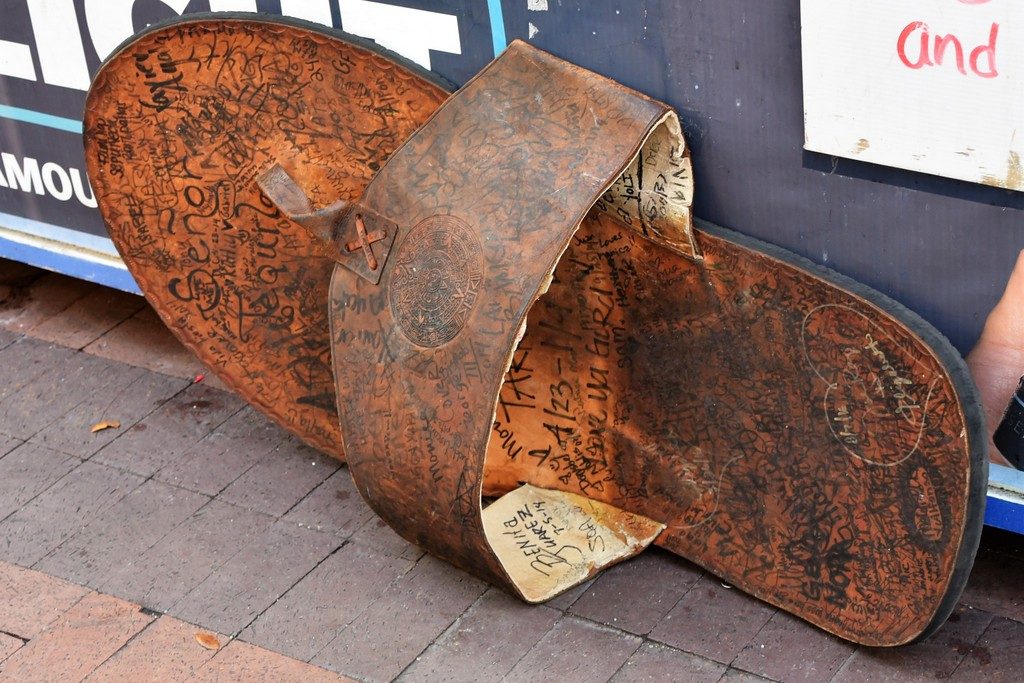 Photo and Commentary ©2018 by Darren Milam
Wednesday, April 25, 2018
When you see this image, you may not have a good grasp of the size, as there is nothing to reference. So, you'll have to trust me when I tell you, if you stood this sandal upright it is over 6 feet tall! I am not sure of its original purpose, given I found it on the ground outside of a restaurant, in downtown San Antonio, Texas. Maybe, the purpose was simply "Come have a bite to eat and sign our gigantic leather sandal." Maybe there is a more complex story to this enormous footwear. Either way, when I saw it, I thought of the famous writing titled Footprints in the Sand (a few different authors have claimed to have written the original, so I'll mention two – Mary Stevenson & Carolyn Carty).
One night a man had a dream. He dreamed
he was walking along the beach with the LORD.
Across the sky flashed scenes from his life.
For each scene he noticed two sets of
footprints in the sand: one belonging
to him, and the other to the LORD.
When the last scene of his life flashed before him,
he looked back at the footprints in the sand.
He noticed that many times along the path of
his life there was only one set of footprints.
He also noticed that it happened at the very
lowest and saddest times in his life.
This really bothered him and he
questioned the LORD about it:
"LORD, you said that once I decided to follow
you, you'd walk with me all the way.
But I have noticed that during the most
troublesome times in my life,
there is only one set of footprints.
I don't understand why when
I needed you most you would leave me."
The LORD replied:
"My son, my precious child,
I love you and I would never leave you.
During your times of trial and suffering,
when you see only one set of footprints,
it was then that I carried you."
Regardless of the "true" author, the story is the same – God is always there for us. He's there to celebrate the victories and He's there to help us through the challenges. I'm very thankful He's got some gigantic sandals to wear, when He needs to carry us.