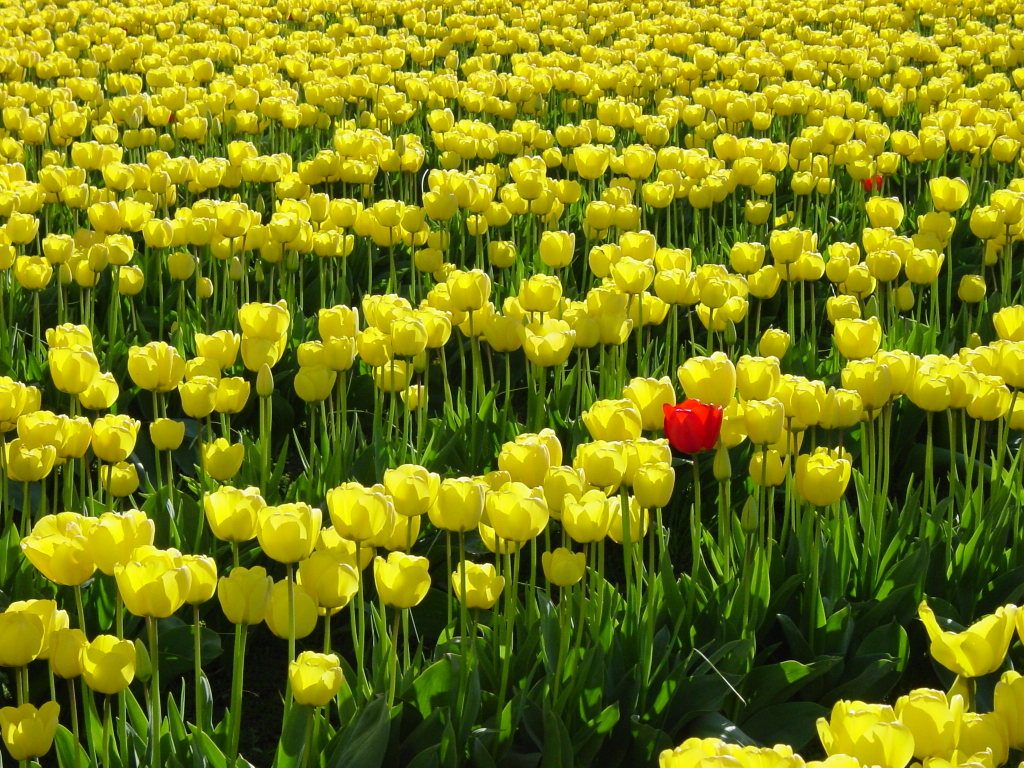 Photo and Commentary ©2018 by Bev Riter
Sunday, April 15, 2018
Tulips are blooming! If you live in the Pacific Northwest you might want to tour the fields of colorful tulips in Skagit Valley by Mt. Vernon. Actually, people come from all over the world for this tulip festival time, so you don't need to live here to enjoy the tulips! It's listed as one of six tulips festivals in the world to see. As you can see, my image shown above is of a field of yellow tulips with a red one standing alone. Even though there wasn't likely any decision in how it appeared to be the different one, there are times when people choose to be different.
Daniel and his friends (Daniel 1) chose a healthy diet at the risk of being killed. After a time, he and his friends looked healthier and were stronger than the men who ate the royal food. The king then chose them to serve in the royal court. It's also like when Shadrach, Meshach and Abednego (Daniel 3) chose to not serve the pagan gods or worship the golden image under King Nebuchadnezzar. Bound and thrown into a fiery furnace, they were not harmed. After the king saw a fourth figure, like the Son of God, in the fire with them he ordered them to be released from the furnace. After that, the king recognized the God of heaven.
Later on in Daniel 6 is the story of Daniel in the lions' den. Daniel was the preferred leader, and some of the other leaders became jealous and wrote a decree that people should only worship King Darius or be put in the lions' den. Forced to sign it, he had Daniel cast in the den because he prayed to God. Darius had faith that Daniel's God would save him, which He did. These are three examples of when people chose to be different and God was with them and blessed them. Do you think He can do the same today?