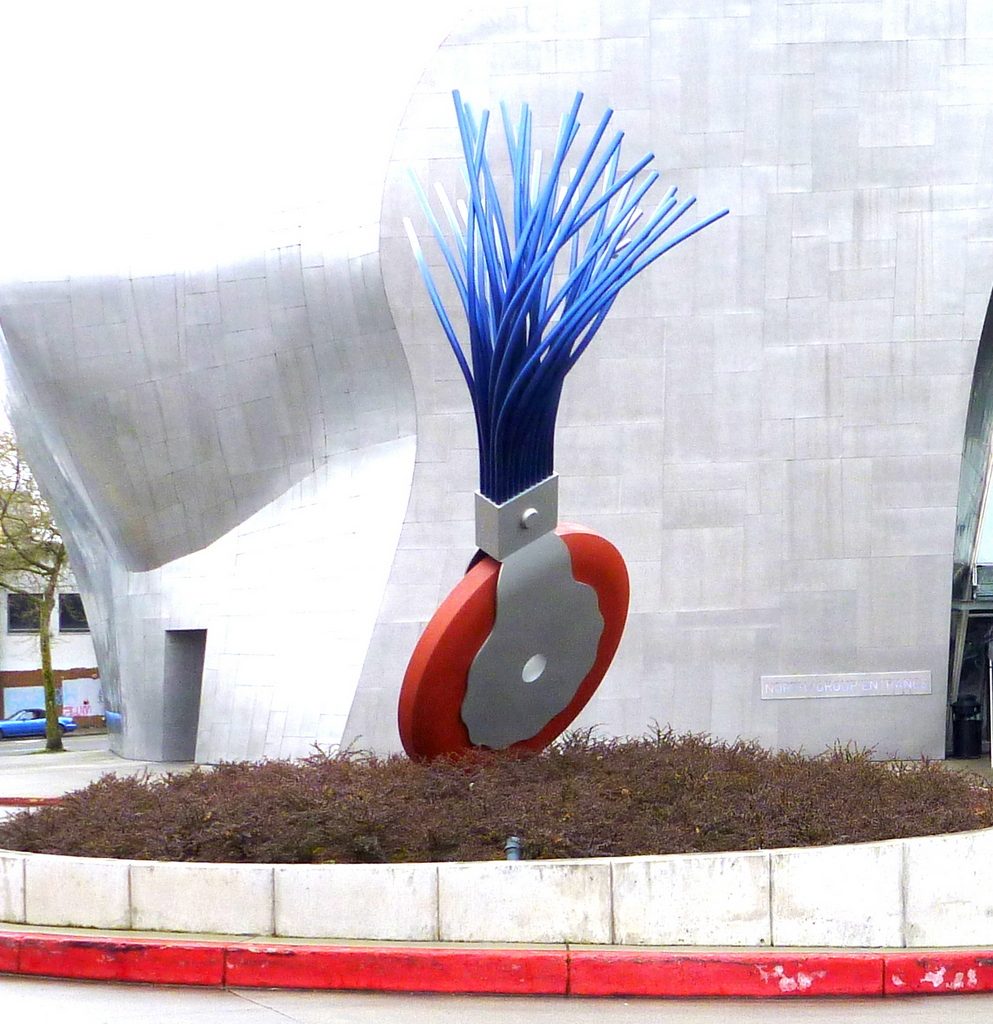 Photo and Commentary ©2018 by Maylan Schurch
Friday, April 13, 2018
Last Sunday morning Shelley and I attended Vegfest, an annual event held in the Exhibition Hall at the Seattle Center. I roved around and sampled quite a bit of the vegetarian and vegan items, and since Shelley's the one who likes to do more thoughtful research than just taste tests, I wandered out of the hall and walked around the Center itself.
Near the Museum of Pop Culture (which used to be called the "Experience Music Project"), I noticed this large and very realistic statue of a typewriter eraser. I was able to recognize it because I am of the era when people had to use them. I never actually owned one of this kind—mine was a pencil-shaped object with an eraser where the pencil lead would go, and on the other end would be some tough plastic fibers something like you see at the top of this particular eraser.
It turns out that this eraser was created squarely within the typewriter era (1976) by a famous sculptor, Claes Oldenburg and his wife, who specialized in creating large versions of ordinary objects. This eraser was one of a set of three, and in 2009 one of them was sold for $2.2 million in New York (see second link below).
I've always enjoyed art, especially realistic art, and I enjoy even more when artists create art that at first seems out of place. Like, why a typewriter eraser? Why so large? And why—this is from the experienced eye of a typewriter user—does the circular eraser part look so pristine and unused, while the fibers look so mashed and mangled?
God, of course, is an artist who creates on both grand and microscopic scales, as is very clear by scrolling through our Daily Photo Parables, or simply keeping your eyes open when you're out in nature. And He's not above putting humor into His work—there's abundant proof by going to YouTube and calling up "funny babies" or "funny animals."
God is love, and God is joy. And nothing you say or do can make Him love you less.
Here are a couple of links relating to "Typewriter Eraser."
https://en.wikipedia.org/wiki/Typewriter_Eraser,_Scale_X