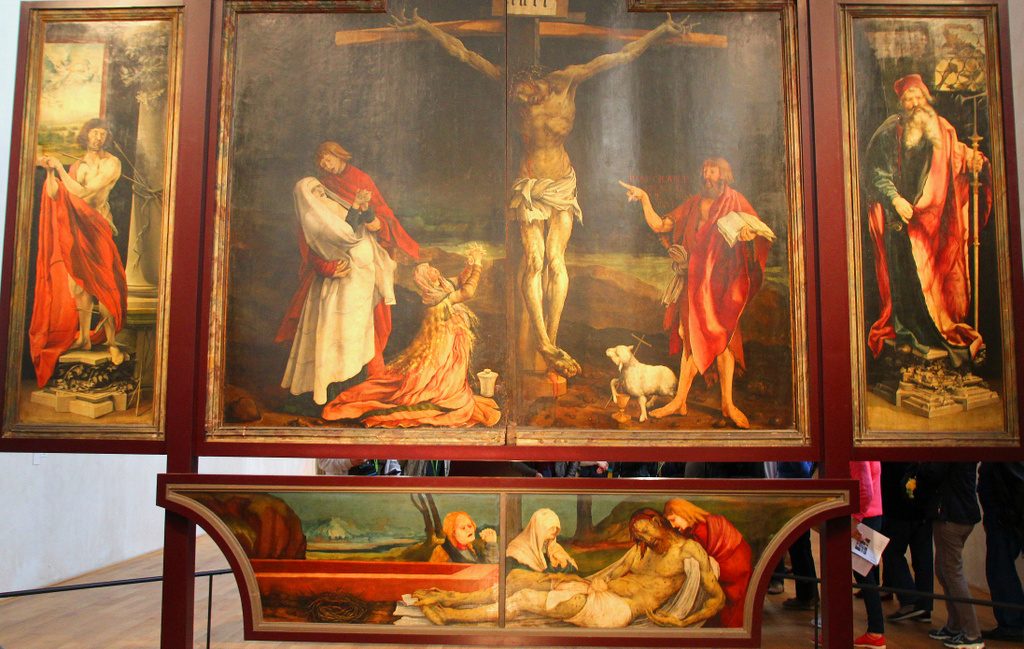 Photo and Commentary ©2018 by Bev Riter
Sunday, April 1, 2018
In the 1500's a monastery at Isenheim, near Colmar, France operated a hospital that included care of people with extremely painful skin diseases. Altarpiece panels, the one showing His crucifixion is above, were painted of Jesus having the same painful lesions as the patients – allowing them to believe that Jesus understood and shared their affliction by feeling their pain and suffering. The hinged panels could fold so patients could view various religious themes to take their mind off their pain. My photo below shows a close up of the body of Jesus with skin lesions and crucifixion marks. Another altarpiece shows Jesus's ascension to heaven, showing the patients that pain is temporary. These altarpiece paintings are on view at the Unterlinden Museum in Colmar.

Words in Mathew 27: 45-50 show that Jesus was in great pain and wondered if God, the Father had forsaken Him. – This was a portrait of agony paid for you and me. He didn't remain in the grave, but rose and ascended to Heaven. The familiar text of John 3:16 says that God so loved the world that He gave His only Son so that everyone who has faith in Him may not die but have eternal life. That is the message of hope! Hope for us this Easter weekend!