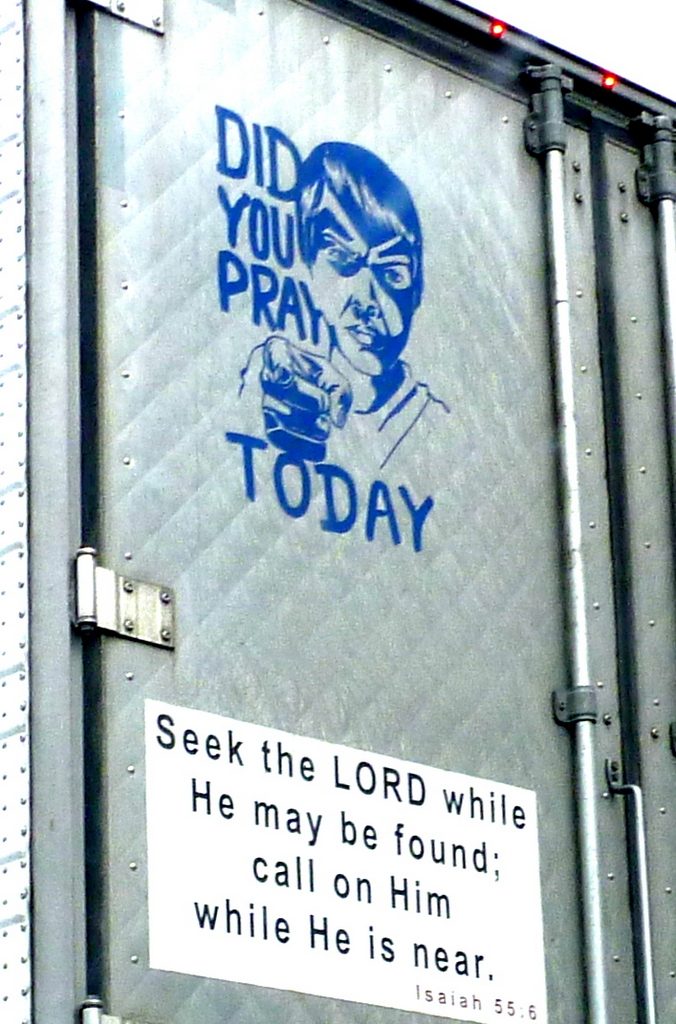 Photo and Commentary ©2018 by Maylan Schurch
Friday, March 30, 2018
Just about a month ago I was heading north on one of our local freeways and spotted this interesting marketing method on the back of a semi truck. The truck and my car were going slowly, so I yanked my camera out of its belt case and snapped this shot.
The drawing of the man bothered me then, and it bothers me now as I'm writing this. I mean, what's the message the marketer is trying to get across? "You'd better pray today—or else." Is that it? Or is it "Bow the knee—or a mean-looking man with a Beatles haircut will poke his finger in your eye"?
Fortunately, we don't have to depend on artists' conceptions to discover why to pray. We just need to look at the truck's quoted text in its context:
Isa 55:6 – 7 NKJV:
Seek the Lord while He may be found,
Call upon Him while He is near.
Let the wicked forsake his way,
And the unrighteous man his thoughts;
Let him return to the Lord,
And He will have mercy on him;
And to our God, For He will abundantly pardon.
And for the result of seeking the Lord, glance down at verse 12:
"For you shall go out with joy,
And be led out with peace;
The mountains and the hills
Shall break forth into singing before you,
And all the trees of the field shall clap their hands.
So my message to the drawing on the truck—lighten up!