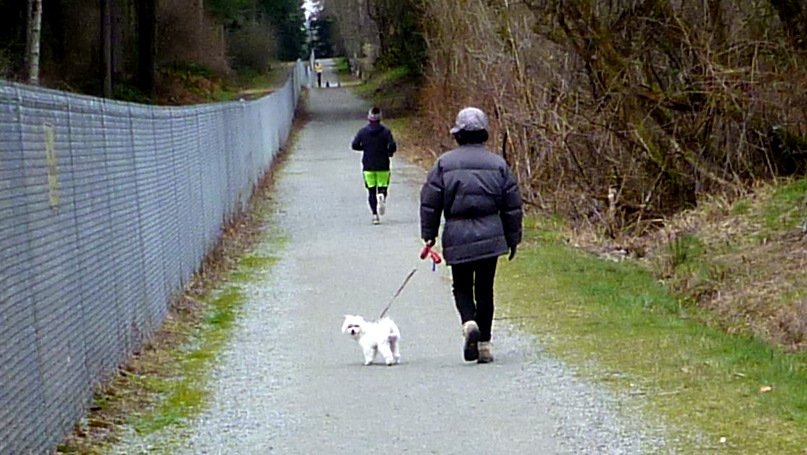 Photo and Commentary ©2018 by Maylan Schurch
Sabbath, March 10, 2018
A long time ago in one of these Daily Photo Parables I mentioned that Shelley and I live near the Lake Youngs reservoir, which is protected by the high chain-link fence you see in the photo above. I think that I once referred to the other side of the fence (to the left, the Lake Youngs side) as a sort of Eden, where deer roam unchased, and where the hunting rifle is never heard.
I took this photo this past Sunday while Shelley and I were on a walk. The little dog and its owner had just paused to chat with us, mainly because the dog was frantic to get acquainted with two new friends. He (or she) strained at the leash, and licked our fingers, and would have kept on licking if "mama" hadn't towed him away.
As soon as they passed us, I knew what was going to happen, so I hauled out my belt-camera and got ready to take a picture. Sure enough, the little dog kept looking back at us with longing eyes. Just seven feet from the closest thing our neighborhood has to paradise, this dog loved all of humanity as though this planet had never strayed from Eden.
Want to whet your appetite for the New Earth, where everyone—animals and human—will live lives of joyful potential? Click the link below: