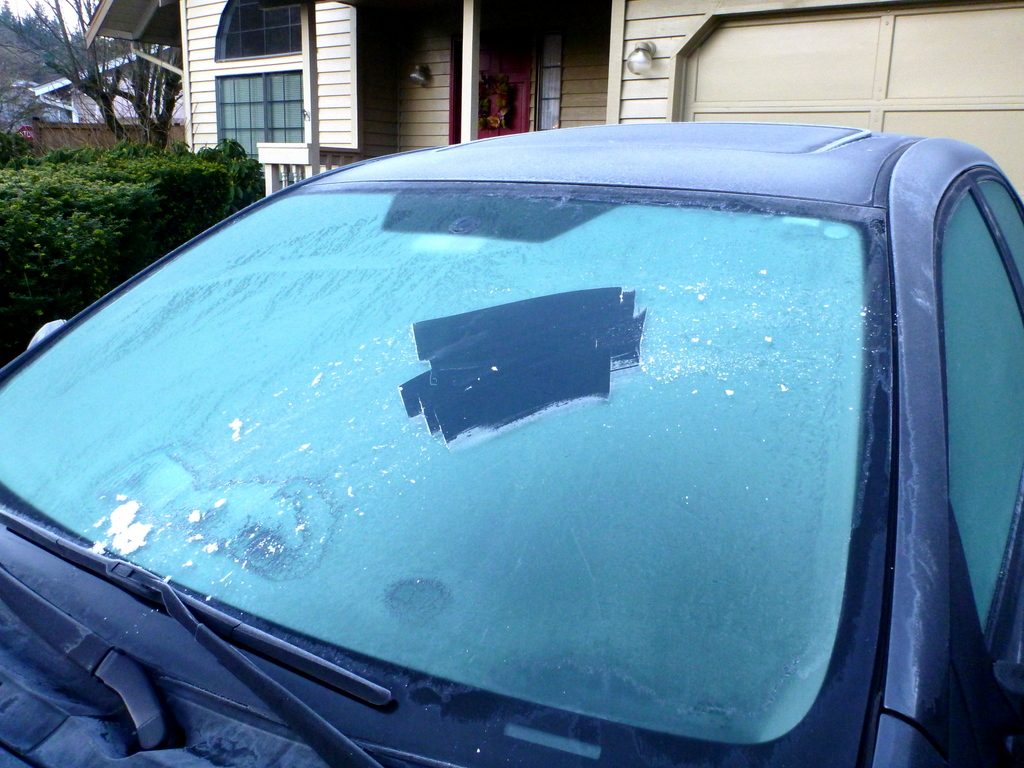 Photo and Commentary ©2018 by Maylan Schurch
Sabbath, January 13, 2018
Back on Sunday morning, January 3, in the midst of some really frosty weather, I went out to scrape ice off our windshield. I suddenly had a memory flashback—I remembered how I would do this many times every winter back in South Dakota.
In the photo above, I have re-created the way most rural South Dakotans scraped ice off their windows. I myself would often do this too! We knew that eventually our car's heater-defroster would completely clear the windshield, so we just scratched a little eye-level hole, got behind the wheel, and chugged out of the farmyard.
Why such a minimal viewing-space? Simply because out there on the prairies, we don't have a lot of traffic. At the instant when your car noses its way onto the highway, the chances are 99% that nobody will be coming from either direction. In fact, once your windows have gradually de-iced themselves, you may still not have seen any other vehicle on the road.
I'm not in South Dakota any more. So once I'd snapped this photo, I thoroughly scraped all the windows out to their edges, and the door-mirrors as well, before I got in the car.  Because even in my neighborhood, there is always someone coming. And once out on the major streets and freeways, the traffic never ceases.
What sort of Photo Parable am I driving at? Think of it—as the end-times get closer, the devil is throwing all of the dangerous "traffic" he can our way, hoping we'll get spiritually lazy and less vigilant, and end up badly damaged.
Twenty centuries ago, Paul provided us with the following ugly catalog of last-days evils:
But know this, that in the last days perilous times will come: For men will be lovers of themselves, lovers of money, boasters, proud, blasphemers, disobedient to parents, unthankful, unholy, unloving, unforgiving, slanderers, without self-control, brutal, despisers of good, traitors, headstrong, haughty, lovers of pleasure rather than lovers of God, having a form of godliness but denying its power. And from such people turn away! 2nd Timothy 3:1 – 5 NKJV
Which means we need turn to another of Paul's passages to tell us how to fend off these terrible traits:
Finally, my brethren, be strong in the Lord and in the power of His might. Put on the whole armor of God, that you may be able to stand against the wiles of the devil. For we do not wrestle against flesh and blood, but against principalities, against powers, against the rulers of the darkness of this age, against spiritual hosts of wickedness in the heavenly places. Therefore take up the whole armor of God, that you may be able to withstand in the evil day, and having done all, to stand. Ephesians 6:10 – 13.
If you continue reading the Ephesians passage, you'll see the specific parts of the Christian's spiritual armor.
And for three other Bible passages about spiritual discipline, click the link just below: