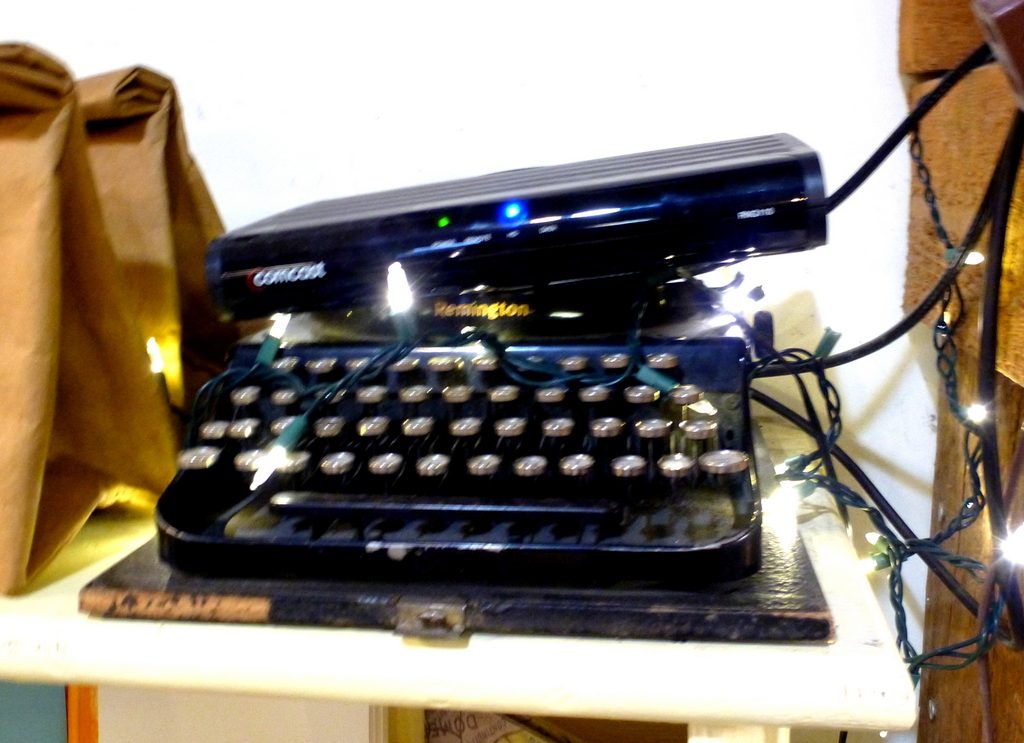 Photo and Commentary ©2018 by Maylan Schurch
Friday, January 12, 2018
A couple of weeks ago, Shelley and I finally got a chance to visit a store we'd had on our list for quite awhile—Island Books on Mercer Island. It's a wonderful place—mainly because it's run by intelligent people who are very perceptive in their choice of what they stock, and partly because there are ancient typewriters on display all over the store.
(By the way, I do not collect old typewriters, though I have a couple of them in the attic just for keepsakes. There's a good chance none of you has an old typewriter you're trying to get rid of, but if you do, don't bring it to me. While marvels of engineering, they are about as useful any more as a slide rule!)
Anyway, back to the bookstore. As my eye roved about looking at the typewriters, I saw high on a shelf a hilarious yet heart-tugging juxtaposition. Sorry the photo is so fuzzy—I had to raise the camera high, and evidently I jiggled it as I pushed the button.
See what I mean by heart-tugging? Here's this grand little Remington portable, created to withstand decades of pounding finger-ends, a machine crafted by someone who probably believed (as I used to) that the typewriter was and would continue to be the last word in word-processing, at least for the ordinary citizen.
But that was then, and this is now. Balanced haphazardly atop the Remington is a large-size Comcast wi-fi modem, an electronic marvel which processes millions more words than this typewriter ever could, plus photos, plus YouTube clips, plus movies, plus just about anything else which can be communicated—even commands for 3D printers. The old is gone (except for the "olds" like this typewriter, which are lovingly collected by people like the owners of this bookstore), and the new has come.
That's a Bible allusion, by the way:
Therefore, if anyone is in Christ, he is a new creation; old things have passed away; behold, all things have become new. 2 Corinthians 5:17 NKJV
How does this happen? Right here at the beginning of the new year is a perfect time to carefully review the steps in conversion. Click the link immediately below. You may wish to pray your way through each verse.