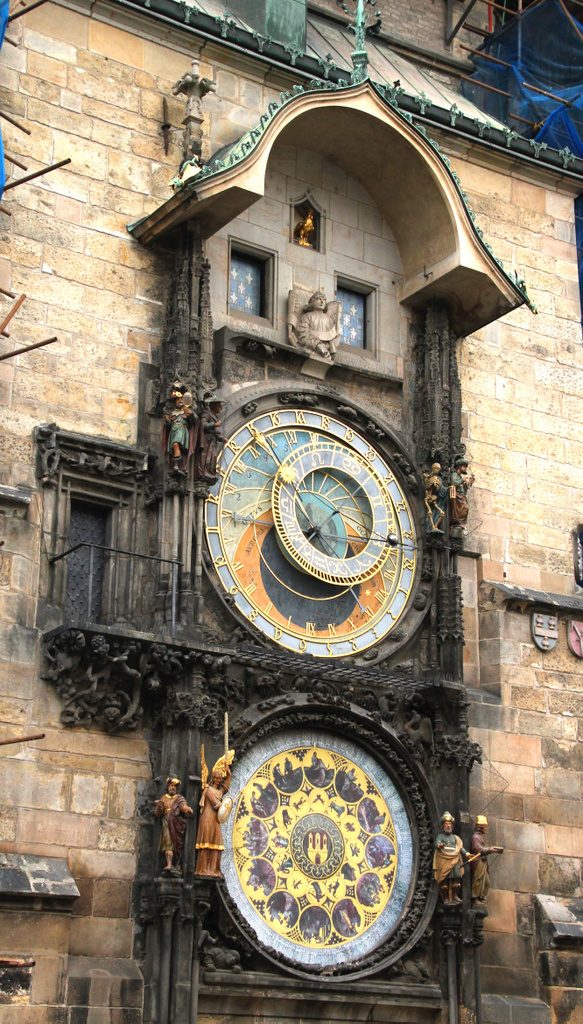 Photo and Commentary ©2018 by Bev Riter
Sunday, January 7, 2018
Many tourists gather every hour in front of the Astronomical Clock in Prague's Old Town Square to see the performance of this over-600 year old clock. As the two windows open, the twelve apostles appear; a bell is rung, other performers do their thing, ending with the crowing of the rooster and ringing of the large bell at the top of the tower. As you can see, this isn't a simple one-dial clock showing the hour. It is possible (if you know where to look) to tell what day is it, the day of the week, month and year. This Astronomical Clock tells Central European, Babylonian and Sidereal time. A dial represents the position of the sun and the moon with the earth being the center of the universe, as it was thought during the medieval period. Also, figures on both sides of the clock move on the hour and are said to represent four things that were despised when the clock was made in the year 1410. A figure looking in a mirror represents vanity, a miser holding a bag of gold represents greed and a figure represents lust and earthly pleasures. A skeleton represents death, reminding people that their time is running out.
Do you think these temptations of vanity, money and possessions still hold for us today? Words of the Lord's Prayer ask to lead us not into temptation, but deliver us from evil. (Matthew 6:13) Later, in the same chapter, we are advised to not store our treasures on this earth, but in heaven and there will our heart be also. (Verse 20) We, as Christians, can think of the twelve apostles shown on this time piece (two are shown below) and who they represent – Jesus Christ, our Savior. By spending time with God, we will grow in grace and in the knowledge of Him. (2 Peter 3:18) As we start this New Year, let's take time to really know Jesus, your Savior and my Savior!