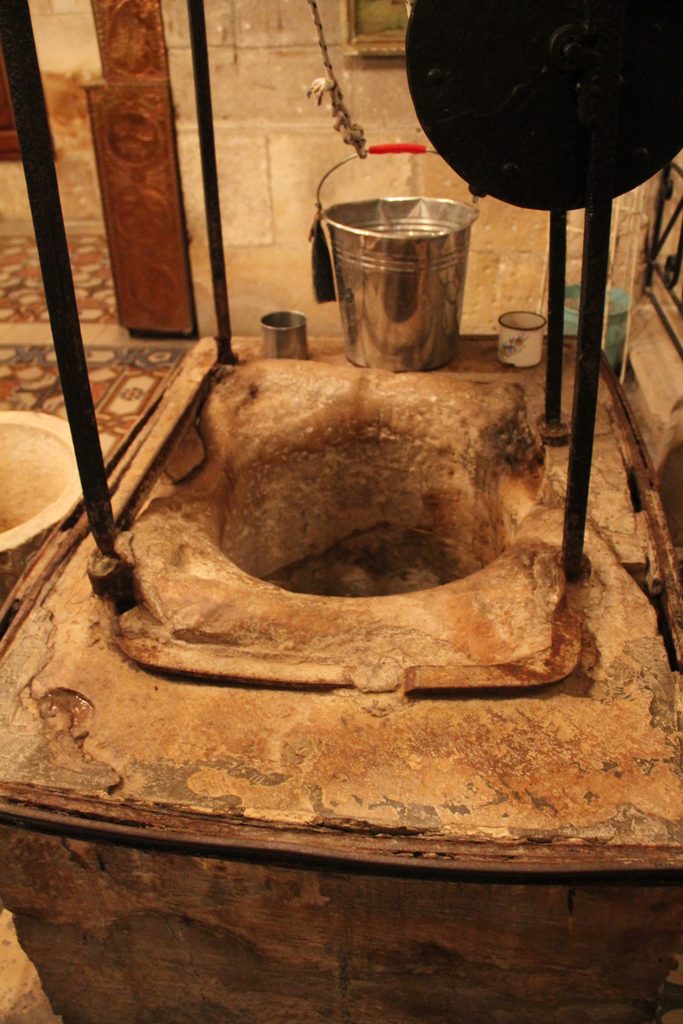 Photo and Commentary ©2017 by Bev Riter
Sunday, December 31, 2017
Jacob's Well, shown in the photo above, is in the city of Nablus in the West Bank. We descended the steps in the Church of St Photina to the well, overseen by a faithful watcher. The well is about 150 feet deep and our guide showed us the water is still drinkable by drinking some from a community cup. He poured some water from the cup back into the well and it took a long time to reach the bottom, where it created a splash. We were told that this well provided water for many people in past times, starting about 3700 years ago!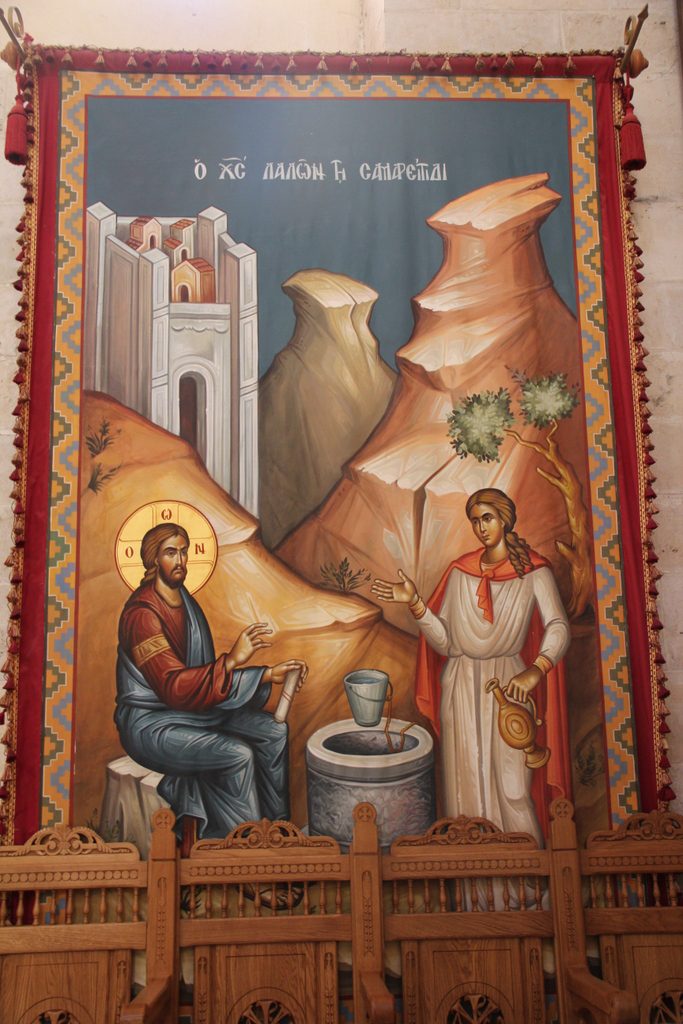 While traveling from Jerusalem to Galilee, Jesus and his disciples took the quickest route, through Samaria. Thirsty and needing to rest, Jesus sat by this well while His disciples went to Sychar, a short distance away to get food. It was mid-day and hot when a Samaritan woman went to the well to draw water. My second photo shows an icon, which is on the wall behind the well, of Jesus and the Samaritan woman. (Note: Other women went to the well in the early morning. Being of questionable character, this woman avoided the others – or maybe she was shunned by them – by not getting her water at the same time as the others.)
Jesus broke three Jewish customs. First, he spoke to a woman. Second, she was a Samaritan woman, a group the Jews despised and usually avoided in conversation. Third, by drinking from her jar or cup He would have become ceremonially unclean. The woman couldn't believe what she was experiencing!
Jesus told her He would give her "living water", meaning eternal life. She, of course, didn't understand what He meant. Jesus revealed that He knew she had had five husbands and wasn't married to the man she with whom she was living. She wondered "How did He know that?" The woman expressed her faith that the Messiah was coming. Jesus answered, "I am He, I who am speaking to you now." John 4:26 NEB What was the response of the Samaritans from Sychar and how did Jesus respond? Read the full story in John 4.
Jesus treated people as individuals with value, accepting them with loving compassion, regardless of their ethnicity, background or gender. No matter who we are or where we're from, our salvation comes only through Him, the Living Water. The words in the song, "Fill My Cup, Lord" by Richard Blanchard seem fitting as we start a new year tomorrow by looking to Jesus who can wipe away our sins and give us a new start on life, everlasting life:
"Like the woman at the well, I was seeking
For things that could not satisfy.
And then I heard my Savior speaking –
'Draw from My well that never shall run dry.'
Fill my cup, Lord;
I lift it up Lord;
Come and quench this thirsting of my soul.
Bread of Heaven, feed me till I want no more.
Fill my cup, fill it up and make me whole.
There are millions in this world who are seeking
For pleasures earthly goods afford.
But none can match the wondrous treasure
That I find in Jesus Christ my Lord.
So my brother if the things that this world gives you
Leaves hungers that won't pass away,
My blessed Lord will come and save you
If you kneel to Him and humbly pray –
(Parts of this have previously appeared in my blogs.)