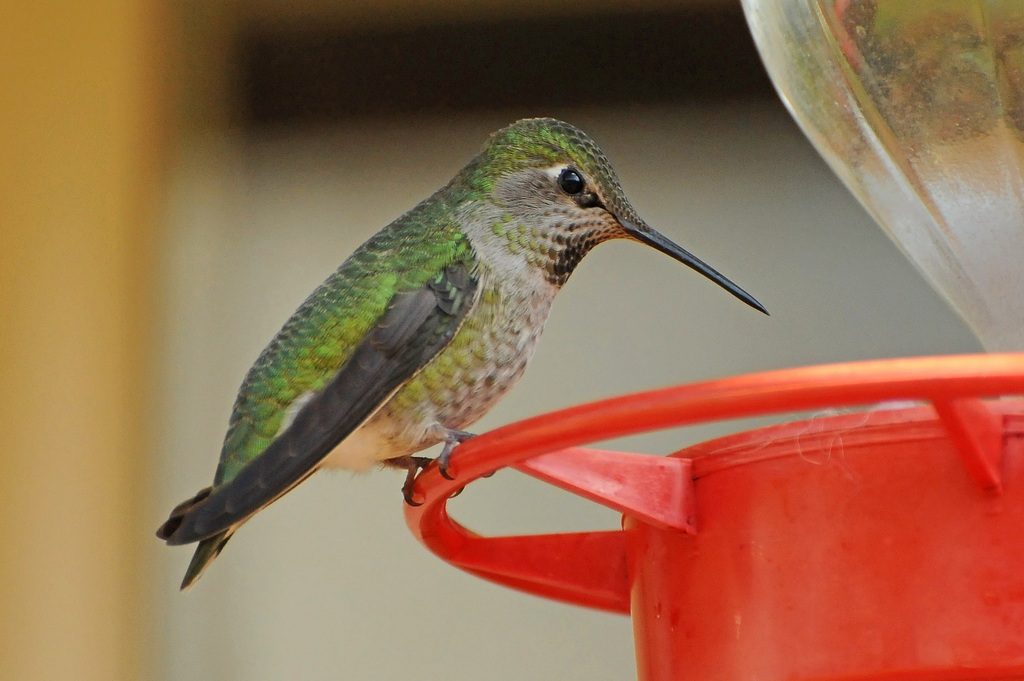 Photo ©2017 by Robert Howson
Commentary ©2017 by Carolyn Howson
Friday, December 29, 2017
Showing Up
(A Christmas Lesson from the Hummingbird Feeder)
by Carolyn Howson
It's not just any hummingbird feeder…it's MINE.
And the hummingbirds? Well, I'll claim them as well.
Two, for sure, maybe more.
Winter, spring, summer, fall–they come, IF I am faithfully feeding them.
That's right. I keep my eye on them and the level of the sugar water they sip.
Four to one–that's the ratio of water to sugar. AND, keeping the feeder clean.
Every three weeks or so, and the sustenance needs to be refreshed for my faithful feathered friends.
In the spring and summer, my hummers zip and zoom over and around my deck
quite comfortably and I watch them; enjoy them;—sometimes talk to them.
Winter nights, sometimes chilly, I bring the feeder in before I retire,
and put it out at sunrise so they can eat early. They like that.
Sometimes one will meet me as I open the door!
Yup, as if to say, "I've been waitin' for you!"
So—what's the Christmas lesson?
Quite simply, relationship—them and me.
We both SHOW UP! We're there for each other.
Jesus, You Showed Up, too. For me.
And You keep showing up—because we're building a relationship.
By faith and by sight I want to thank You—
be there for You, just as You are for me!
Happy Birthday, Jesus!