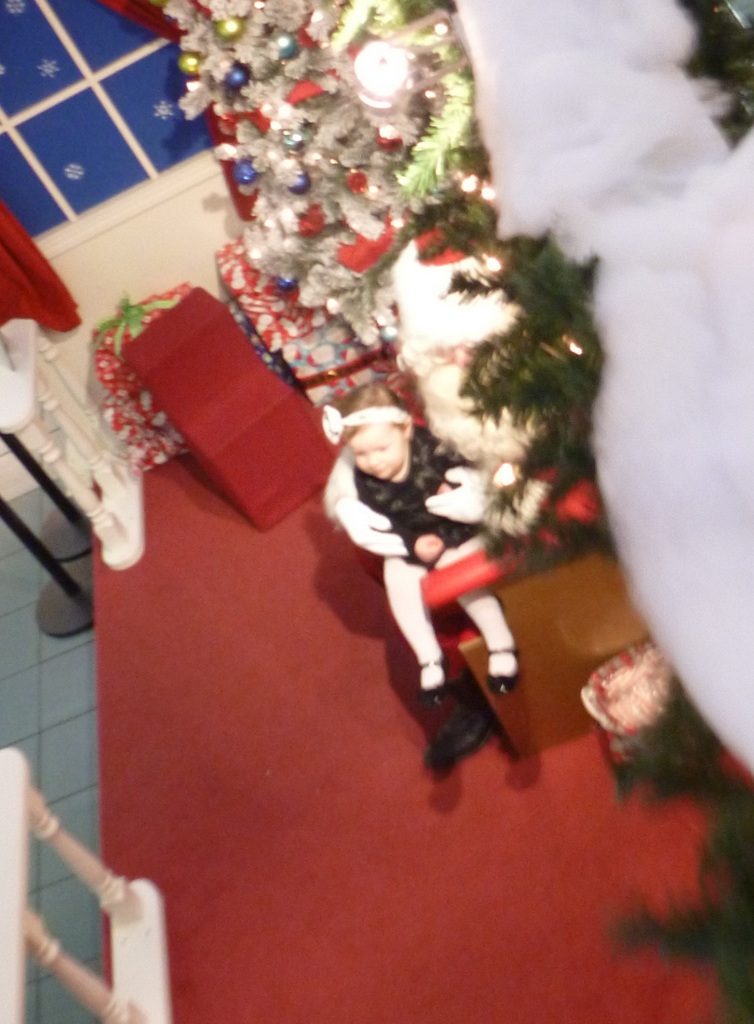 Photo and Commentary ©2017 by Maylan Schurch
Wednesday, December 6, 2017
Tuesday of this week I spent a bit of time in a public library in a two-story "town center." As I left, I walked past this get-your-kid's-photo-with-Santa scene, and saw a little girl racing around having a great time.
Until, that is, it was time for Mommy to plop her on Santa's lap and grab for the camera. The little girl immediately began to shriek with what sounded like a combination of fear and vexation.
Dad and Mom were unfazed. In fact, they were both getting a kick out of their daughter. Dad was grinning, and Mom was trying to distract her progeny with a bouncing ball and funny faces. Nothing worked. To do him justice, this Santa wasn't intimidating–he was neither jovial nor a fount of "Ho-ho-ho's." Instead, he was as mild as a bookkeeper. So as I ascended the escalator which overlooked this traumatic scene, I just had to snap a photo, which, as you see, was neither carefully composed nor focused.
Is this how we think of God? If someone were to lift you up and land you on the lap of the Deity, how would you react? Would you freeze in fear, or at least respect? Would you shut your eyes and long for when you could get down and retreat to a safe distance?
Christmas—even though the holiday is only a pagan placeholder for what really happened—might be a good time to get to know God better. After all, it was He who loved the world so much that He gave His only Son for our salvation. (John 3:16).
Take a moment and click the link below—and get ready, in a manner of speaking, to meet your Maker! You'll be amazed, intrigued and comforted. And you'll realize that He is a marvelous Parent. Jesus called Him little else besides "Father."