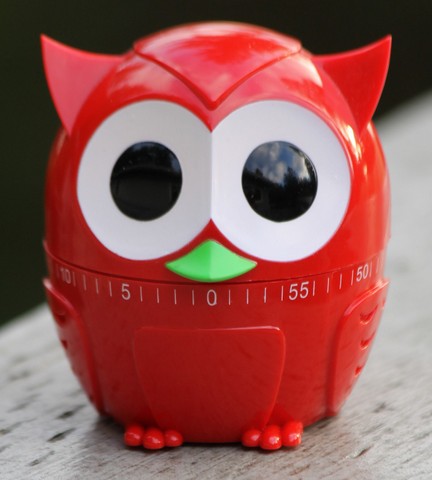 Photo and Commentary ©2017 by Cheryl Boardman
Monday, December 4, 2017
This photo is of my owl kitchen timer. I've never seen a bright red owl but at least I can find it easily!
Doesn't it seem like we are always measuring time? How much time do I have before I have to leave for work? How much time before I can go to lunch? Is it that time already? How much time before I can go home? How long do I need to leave the cottage cheese loaf in the oven? Do I have time to do laundry before it's time to go to bed?
We never seem to have enough time to fit everything we want and need to do into our schedules. Thankfully, God is on a different time schedule. He has us stop and fit a day of rest into our busy lives where we can contemplate who He is as our God and our Creator.
We are also told to stop and pay attention to what is going on in current time and not worry about future time:
Give your entire attention to what God is doing right now, and don't get worked up about what may or may not happen tomorrow. God will help you deal with whatever hard things come up when the time comes.
Matthew 6:34 (The Message)