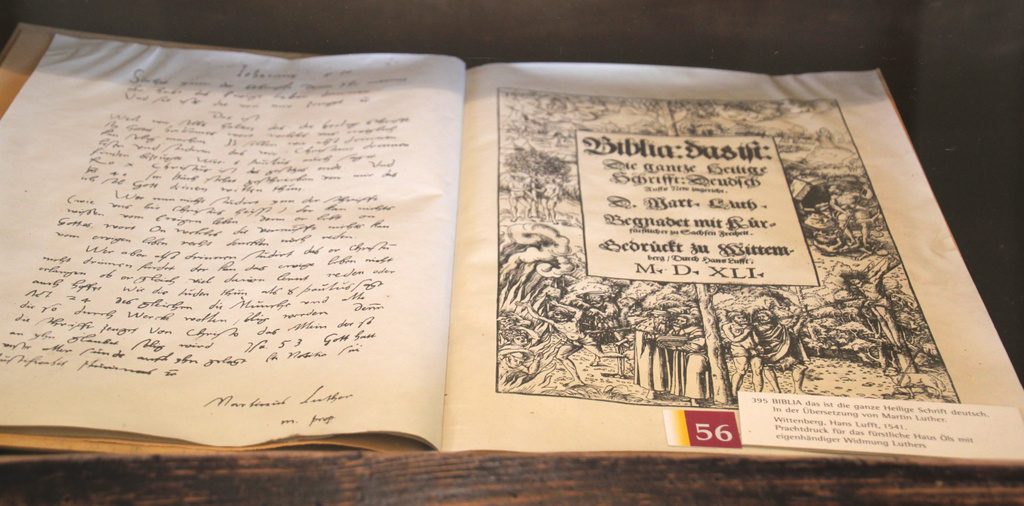 Photo and Commentary ©2017 by Bev Riter
Sunday, October 29, 2017
These last few weeks, I've focused on Martin Luther, Reformation leader who started the Protestant movement. This week, October 31, commemorates 500 years since he took his stand against teachings of the papacy by posting and circulating his 95 Theses or statements. What happened after he defied the Catholic Church and the Holy Roman Emperor?
My photo of the Bible shown above, located in the Luther Room in the City of Worms Museum, is a copy of Luther's Bible. Luther believed that ordinary Christians (rather than just the pope and priests) should have copies of the Bible. And…it shouldn't only be available in Latin. Therefore, he translated the Bible into the common German language – first the New Testament (1522 in 11 days while in hiding at Wartburg Castle) and then the Old Testament (1534). This is considered to be one of his greatest achievements. Although Luther knew Greek and Hebrew, he formed a translation committee in order to be accurate in translating the Old Testament. Also, he insisted that terms be used to sound natural and so the common person could understand. Once printed, everyone wanted to have a copy of Luther's Bible! Next, other countries translated the Bible into their languages. It's interesting to know that for over 400 years Luther's Bible was the textbook Germans used in school when learning how to read and write! The Vogtsbauernhof, Black Forest Open Air Museum near Gutach, Germany has buildings and period collections from the 1500's. Living quarters of families are shown including this display of a Martin Luther Bible (shown below) used and valued by one of the local families in the Black Forest.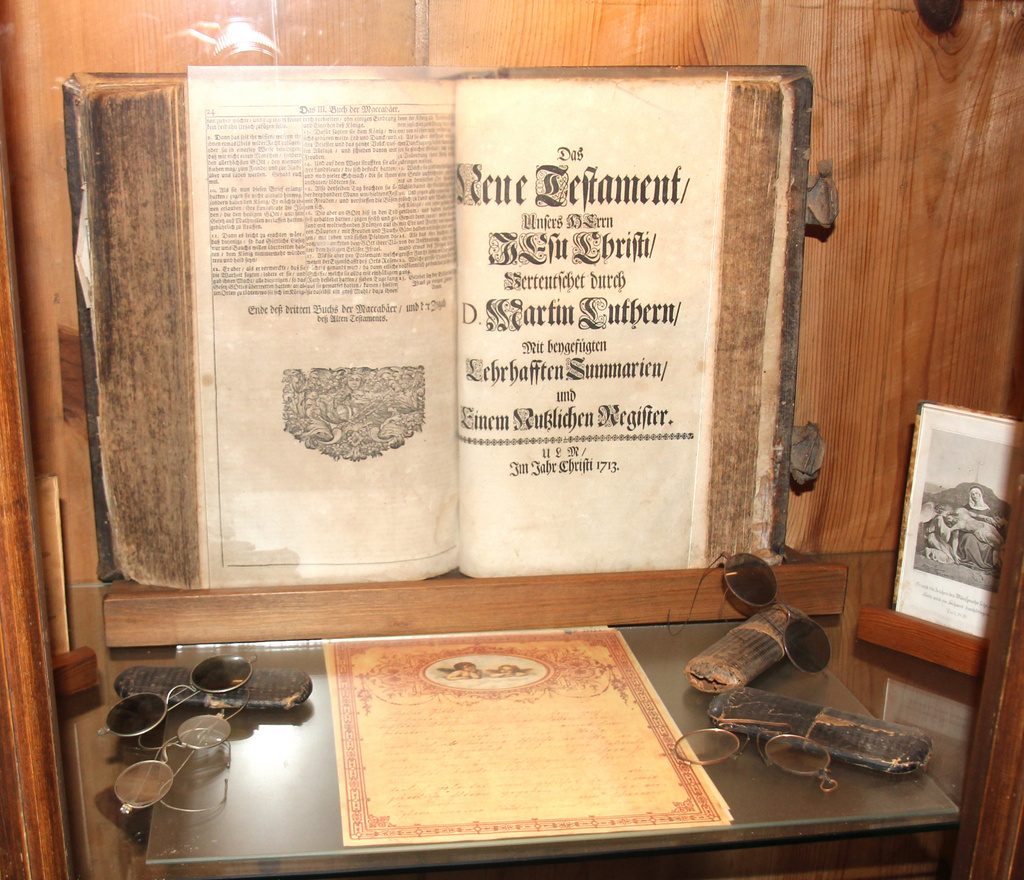 John Wycliffe directed the completion of the first translation of the entire Bible into English in 1384. Before this time, partial translations of the Bible into English had been attempted. During Luther's time, William Tyndale translated the Bible from Hebrew and Greek into English and published the New Testament in 1525. Tyndale was impressed with Martin Luther's placement of the books of the New Testament which previously had no specific order. Because of opposition in England, most of the 3000 (some sources say 6000) copies printed were burned. In fact, in the late 14th century, anyone found with an unlicensed possession of Scripture in English was punished by death. Tyndale was condemned as a heretic and executed in 1536 with the prayer that the Lord would open the eyes of the king of England. Within four years, English translations of the Bible, based on Tyndale's work, were published in England, including King Henry's official Great Bible.
As you know, today many translations of the Bible are available to us in the English language. Aren't we fortunate to have free, legal access to the Bible! Check in next week when I'll share information about the development of Protestant churches.