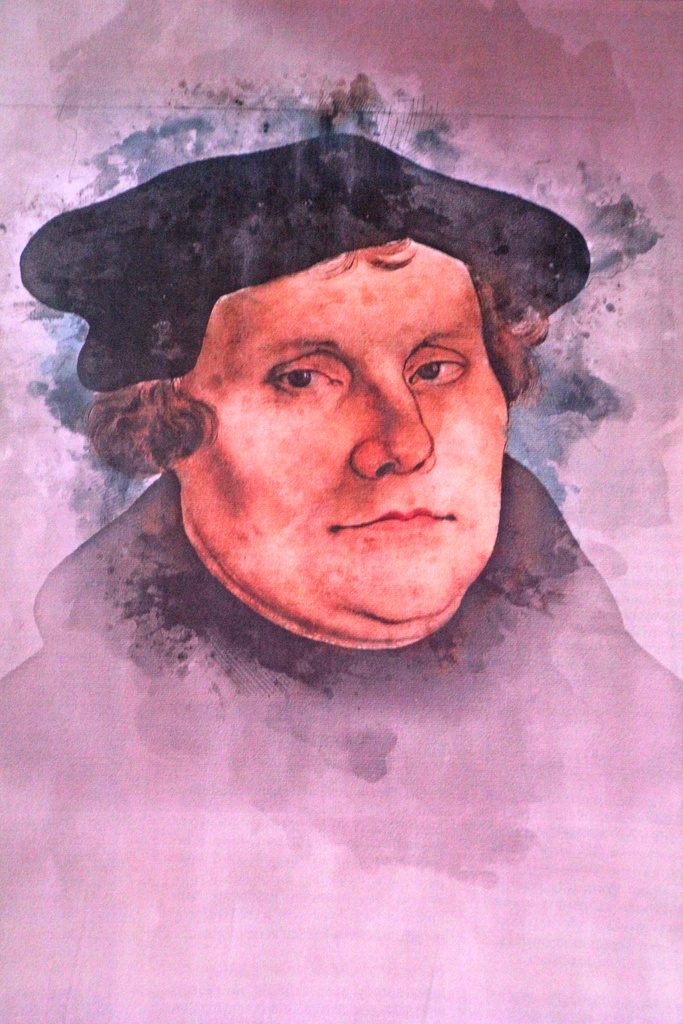 Photo and Commentary ©2017 by Bev Riter
Sunday, October 8, 2017
Throughout many of the Protestant churches in Germany and other places in the world, the 500-year anniversary of Martin Luther's actions that changed the course of Western history and Biblical beliefs are being commemorated. Having just returned from some of these significant historical sites, I'll be sharing photos and thoughts about the Reformation with you during these next few weeks. I took the above photo from a poster of Martin Luther that was in the Protestant Church in Nonnenweier, Germany.
Who was Martin Luther? Martin grew up in eastern Germany where his father worked in the copper mines. His father wanted him to become a lawyer. To begin with, Martin attended Latin school and when only 13 years old started studying law at the University of Erfurt. He earned his baccalaureate and master's degrees in the shortest time allowed by the university. In 1505, the 21-year old Luther was caught in a severe thunderstorm where a bolt of lightning struck the ground near him. This moved him to give away all of his possessions and become a monk, much to his father's dismay. As he thought was necessary for salvation, he prayed, fasted, went without sleep and endured extreme cold. Later he commented, "If anyone could have earned heaven by the life of a monk, it was I."
Even though he sought to love God by these means, he found no consolation. He became increasingly terrified of the wrath of God. As he studied Romans 1:17, his focus was on the word "righteous", thinking that only the righteous could live by faith. He thought that God punishes those who are not righteous and felt he could not live by faith because he was not righteous.
He was told to study for his doctorate in the Bible and become a professor at Wittenberg University. In 1513 and 1514 while lecturing on the books of Psalms and Romans he began to have the insight that the righteous live by faith which is a gift from God. He felt relieved that faith didn't consist of abiding by the church's teachings but by trusting in the promises of God. This prompted him to study further. Check in next week to find out what Martin Luther did next. Below is one of many banners we saw commemorating this special 500-year anniversary. This one was in Worms, Germany.