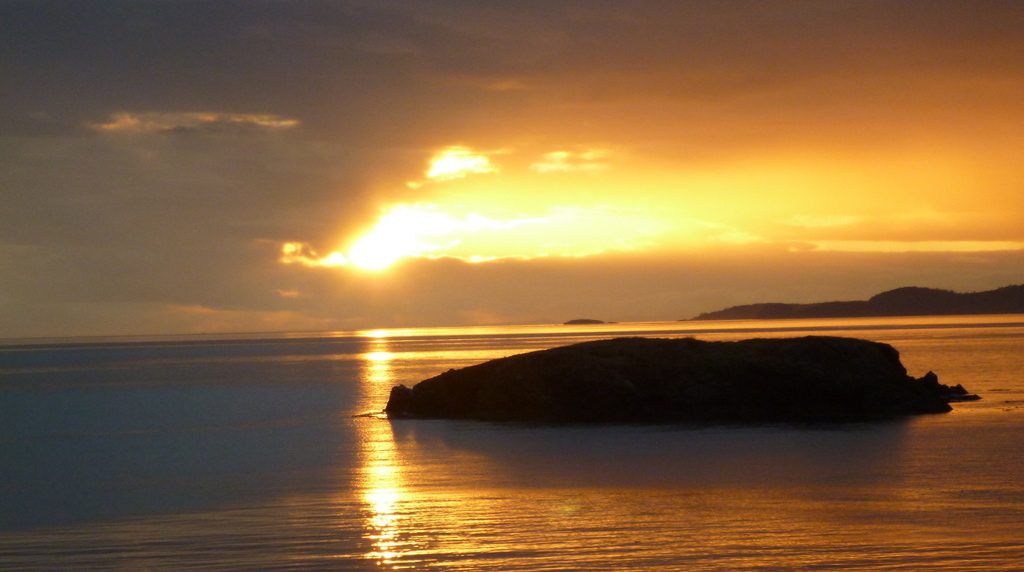 Photo and Commentary ©2017 by Maylan Schurch
Sabbath, October 7, 2017
Last weekend our congregation enjoyed its annual retreat at Walla Walla University's marine station next to Rosario Beach near Deception Pass, a few miles from Anacortes, Washington. At sundown that Saturday (Sabbath) evening, I snapped this photo.
Even though the old gospel song "Beyond the Sunset" takes only two minutes and seventeen seconds to sing, I've always been rather restless while it's being rendered. It's partly because the song has no verse-chorus structure—which would provide variety—but it simply has four long verses, one after the other. And it's most often sung very mournfully.
One of the websites which came up when I Googled "Beyond the Sunset lyrics" was called FuneralHelper. And sure enough, in a number of the early funerals I conducted, the families often asked that that song be a part of the service.
But even though I've felt less-than-satisfied about the song—and especially its mournful performances—the lyrics are very heart-healing, especially to those in bereavement. Read them over, without musical accompaniment (and then look up some performances on YouTube, because there are many), and thank the Lord for the hope He gives beyond the grave.
Beyond the sunset,
O blissful morning,
When with our Saviour
Heav'n is begun.
Earth's toiling ended,
O glorious dawning;
Beyond the sunset
When day is done.
Beyond the sunset,
No clouds will gather,
No storms will threaten,
No fears annoy;
O day of gladness,
O day unending,
Beyond the sunset,
Eternal Joy.
Beyond the sunset,
A hand will guide me
To God, the Father,
Whom I adore;
His glorious presence,
His words of welcome,
Will be my portion
On that fair shore.
Beyond the sunset,
O glad reunion,
With our dear loved ones
Who've gone before;
In that fair homeland
We'll know no parting,
Beyond the sunset
For evermore!
–Virgil Brock