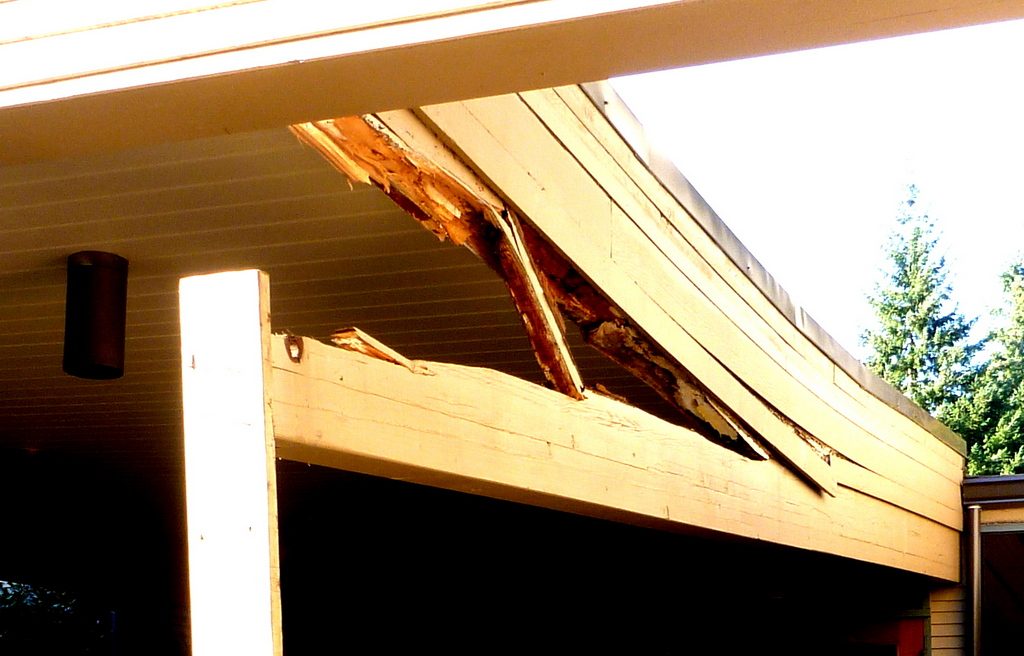 Photo and Commentary ©2017 by Maylan Schurch
Friday, October 6, 2017

Yuck. Wood rot isn't a pleasant topic, right? Yet wood rot caused a pretty major crisis at our church this week. The above beam (along with its twin to the left out of the photo) was supporting a portico over the south entrance to the foyer. Yet over the years, imperceptible through its coat of paint, it had been absorbing water. And finally its lower part broke loose.
Providentially no one was hurt. But the beam's repair (or more likely replacement) is going to cost a lot of money. And its twin beam is going to be carefully examined and dealt with as well.
This reminds me of how subtly pervasive sin is. Jesus understood how evil the natural human heart is, and was especially emphatic in His condemnation of sinners who tried to pretend they were righteous. Notice what He said to some religious leaders of His day:
"Woe to you, scribes and Pharisees, hypocrites! For you cleanse the outside of the cup and dish, but inside they are full of extortion and self-indulgence. Blind Pharisee, first cleanse the inside of the cup and dish, that the outside of them may be clean also." — Matthew 23:25 – 26 NKJV
To find out more about what the Bible has to say about sin—and what to do with it, click this link:
http://www.bibleinfo.com/en/topics/sin