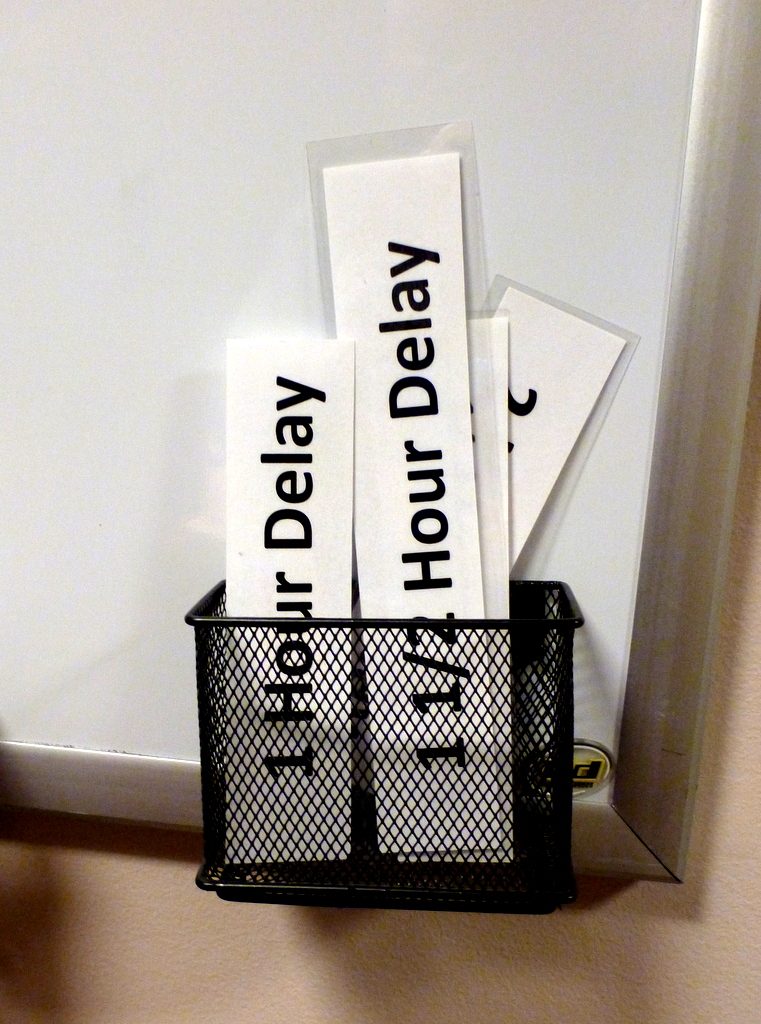 Would We Want to Know?
Photo and Commentary ©2017 by Maylan Schurch
Friday, August 11, 2017
Recently I was in the lobby of a medical clinic and saw a white metal bulletin board on which was listed in large letters the names of the doctors for that floor. Beside one of the doctor's names was a magnetic strip which said "On Time."
At the lower right corner of the whiteboard was this little basket with time-delay strips. I could imagine the sigh of weariness a patient might emit if he or she saw that their doctor wouldn't be able to see them for an hour and a half.
This system was of course set up to give helpful information to the patient. So, why couldn't Heaven let us know the time of Jesus' return?
There are at least a couple of good reasons why Jesus said, "But of that day and hour no one knows, not even the angels of heaven, but My Father only." (Matthew 24:36) In the next chapter He repeated this fact, adding a warning: "Watch therefore, for you know neither the day nor the hour in which the Son of Man is coming." (Matthew 25:13)
One reason for concealing the year or day of His return might be the discouragement factor. If He'd told His disciples, "It will be at least 2,000 years before I actually come back," that might have disconsolately shriveled the Christian church right there.
Another reason for concealing the time could be that it really doesn't make that much difference. The Bible clearly teaches that death is a sleep, so if I die before Jesus returns, it will be just a blink of an eye (to my perception) before I see the blaze of heavenly light above my gravestone.
And a third reason is the most obvious one. If I knew that Jesus was returning on May 5, I would wait until May 4 and then stay up all night and get really religious, or try to. So maybe it's best we don't know. Because whenever He does arrive, He will be exactly on time.
More than a century ago, an Adventist hymn-writer put Jesus' comments (along with some encouragement and some advice for what to do while we're waiting) into a gospel song:
We know not the hour of the Master's appearing,
Yet signs all foretell that the moment is nearing
When He shall return—'tis a promise most cheering—
But we know not the hour.
(Chorus): He will come, let us watch and be ready;
He will come, hallelujah! hallelujah!
He will come in the clouds of His Father's bright glory—
But we know not the hour.
There's light for the wise who are seeking salvation,
There's truth in the Book of divine revelation—
Each prophecy points to the great consummation—
But we know not the hour.
We'll watch and we'll pray, with our lamps trimmed and burning,
We'll work and we'll wait till the Master's returning,
We'll sing and rejoice, every omen discerning—
But we know not the hour.
–Franklin E. Belden, 1886
In case you want to see more Bible evidence that death is a sleep until the resurrection, click the link immediately below (remember to check out other Bible verses in the sub-links).
http://www.bibleinfo.com/en/topics/death